Shownotes
There are great virtues that can be developed through sports. However, if not properly ordered, it can cause a breakdown in the domestic church. Our guest, David Dean, Superintendent of Catholic Schools for the Diocese of Tulsa and Eastern Oklahoma, joins us to talk about this and his time in the Humanities program at KU with John Senior.
Become a Patron! Over 40 interviews, a course with Karlo Broussard, a 10 part series on the domestic church, a course on fitness and virtue by Pat Flynn, and free thank you gifts for supporting the show!
---

Travel to Italy, the Holy Land, Scotland, or Europe. Take a Catholic pilgrimage cruise or mix in Faith and Food or Faith and Fitness. No matter where you travel with Select, you will be embraced by faith. All our trips feature daily mass, unparalleled access to sacred sites, local guides that speak your language, and excellent accommodations. We have been helping pilgrims put their feet in the places their faith began for over 30 years. We want to help YOU experience the fun and faith-enriching power of pilgrimage. 
Click here
---
About our drink:
Hunt down a grill and gather your ancestors, because the Ardbeg BBQ Smoker is bringing the everyday cookout into a new age! This gift pack includes one BBQ Smoker and one bottle of Ardbeg An Oa – the perfect spirit for sippin' and tearin'. Small but mighty, the smoker lets you surround your food with smoke in just a few easy steps. Simply fill the puck with wood chips, lay it at the back of your grill, wait until your BBQ is sufficiently smoky, place your food around the puck, smoke it out some more, and voilà! Once your food is smoked, cooked, and practically falling off the bone, all that's left to do is plate up and pair with a delectably smooth dram of Ardbeg An Oa.
ARDBEG AN OA
Ardbeg An Oa's rounded and subtly smoky aromas make it the prime spirit for toasting by the BBQ. With notes of thick cigar smoke, roasted tea leaves and grilled artichokes, this whisky is the perfectly peaty dance partner for your smoky culinary creations. ABV: 46.6%
About our gear:
N/A
About the Topic:
How long have we been playing sports? What are the benefits of sports in a child's development and growth in virtue? What is the end of sports for most people? What do you need to be aware of as a Catholic dad when getting your kids into sports? How will it affect the family?
We discuss this and much more with David Dean, Superintendent of Catholic Schools for the Diocese of Tulsa and Eastern Oklahoma.
---
CONGRATULATIONS TO The Catholic Woodworker FOR OPENING UP A NEW OFFICE BUILDING! WE ARE GRATEFUL FOR YOUR SUPPORT AND INCREDIBLY HAPPY FOR YOUR CONTINUED SUCCESS:
Use promo code TCMS10 for 10% off all purchases.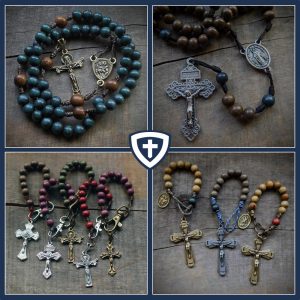 [youtube https://www.youtube.com/watch?v=bayDWj5nyZ8] TIME CODES: If this is your first time listening to The Catholic Man Show, we do 3 things almost every episode:1.) Open, review, and enjoy a man beverage – Minutes 1-12.2.) Highlight a man gear – Minutes 12-24.3.) Have a manly conversation – Minutes 24-48If you haven't listened to The Catholic Man Show before, check out our previous episodes 
here
. Subscribe to our 
 YouTube channel
 to watch past episodes.
---
Want to help The Catholic Man Show?
By giving us a rating on 
iTunes, it helps others find the show.
Want to say up with The Catholic Man Show? Sign up for our mailing list: 
Click Here
Looking for a prayer to pray with your wife? 
Check this blog out.
Are you getting our emails? Sign up for our newsletter where we give you all bacon content – never spam. 
SIGN UP HERE: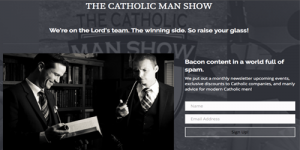 ---
If you enjoyed this episode of The Catholic Man Show and are looking to protect your family from the dangers of the internet, go to 
Covenant Eyes
 and use promo code "Catholicman" for a 30-day free trial of keeping your family safe.
It's getting colder outside – time to get your TCMS stocking cap!