Today's leaders face the challenge of leading five generations: Baby Boomers, Generation X, Millennials, and brand-new Generation Z teachers, along with Gen Alpha, today's youngest students.
In this week's episode, Mark White, shares his research and experiences to
address expectations implicit with leading each generation. 
In this episode, we discuss:
Tactics for transitioning to 5-Gen Leadership and understanding distinct generations in teaching staff

Advice for creating a welcoming environment for Gen Z and Gen Alpha

And his book,

Leading 5 Generations in Schools

! 
About Mark White:
Mark White is an award-winning teacher, school leader, and author. He was previously the superintendent of the Gahanna-Jefferson Public Schools in
Gahanna, Ohio, and the academic principal at the Beijing National Day School in
Beijing, China. He has frequently been a guest speaker in universities and at local,
state, and national conferences. As a consultant, he has coached thousands of
educators in schools across America.
Mark is the co-author, along with Dwight L. Carter, of
What's in Your Space: Five Steps for Successful School Redesign
(Corwin Press 2016) and
Leading Schools in Disruptive Times: How to Survive Hyper-Change
(Corwin Press 2018), which was chosen by Learning
Forward as a book club selection. A second edition of the book, updated during
the COVID pandemic of 2020, was released in 2021. His latest book,
5
-Gen Leadership: Leading 5 Generations in Schools in the 2020's
was released by Corwin Press in
October of 2021 and was recently selected for placement in the Sage Knowledge digital library, a collection of books accessed by researchers and academics from around the world.
Follow Mark White:
https://www.amazon.com/5-Gen-Leadership-Leading-Generations-Schools/dp/1071837028?crid=18NHTG3K1Z8I&keywords=Leading+5+Generations+in+Schools&qid=1667063816&sprefix=leading+5+generations+in+schools%2Caps%2C125&sr=8-1&linkCode=ll1&tag=aspirewebsite-20&linkId=f3300f2214328fc8d7aaaa082628a392&language=en_US&ref_=as_li_ss_tl [caption id="attachment_3508" align="alignnone" width="1024"]
Aspire: The Leadership Development Podcast Swag, Joshua Stamper, Teach Better[/caption]
NEW Aspire Swag with Discount Code: ASPIRE
Tee-Shirts and Drinkware:
ASPIRE: The Leadership Development Podcast
This post contains affiliate links.
When you make a purchase through these links, The Aspire Podcast gets a small percentage of the sale at no extra cost to you.
Need a Presenter for a conference or school PD?
Contact Joshua Stamper
for presentations on Restorative Practices, Leadership Development, and Innovative campus systems.
Watch my session on Trauma Informed, restorative and social emotional practices at
www.teachsummit.com/stamper
Follow the Host, Joshua Stamper:
Contact:
https://joshstamper.com/contact/
Twitter:
www.twitter.com/Joshua__Stamper
Instagram:
www.instagram.com/joshua__stamper
Linkedin:
www.linkedin.com/in/joshua-stamper
Facebook:
https://www.facebook.com/AspirePodcast
Subscribe:
https://podcasts.apple.com/us/podcast/aspire-the-leadership-development-podcast/id1384210762?mt=2
Aspire to Lead Won the FireBird Award!
I'm happy to announce that my book, "Aspire to Lead", won the 2022 Leadership Book Award from Speak Up Talk Radio! 
[caption id="attachment_4030" align="alignnone" width="1024"]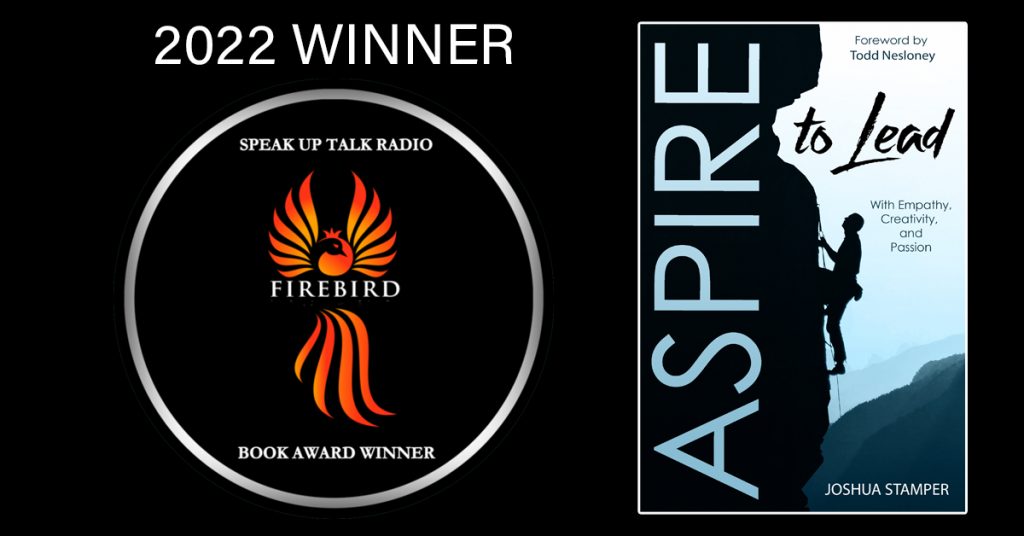 FireBird Speak Up Radio Book Award Winner, Joshua Stamper, Aspire to Lead[/caption]
It is a great honor to get this kind of recognition and I really appreciate all your support!
The book is available for purchase
on Amazon
.
https://www.amazon.com/gp/product/1953852386/ref=as_li_tl?ie=UTF8&camp=1789&creative=9325&creativeASIN=1953852386&linkCode=as2&tag=aspirewebsite-20&linkId=0d9c336e3db6ab16cbb08421ef3e4175
Review the Podcast
I want to give a huge shout out to those who have taken the time to provide a review on Apple, Spotify or any other podcast platform. It truly means the world to me that you would take the 30- 90 seconds to share how the podcast has positively impacted you or why other educators should check out the show.
[caption id="attachment_3022" align="alignnone" width="1024"]

Teach Better Podcast Network, Aspire: The Leadership Development Podcast[/caption]