Your hiring process should not just start with stacking up resumes. If you want the right fit for the job and for your company, you need to be thorough. Joining Bob Roark today are 
Steve Urban
 and 
Scott Kegerreis
, co-founders of 
Riderflex
, a generalist boutique recruiting firm servicing all industries, all functions, nationwide, C-level to associates. The two recruitment experts share how you can optimize your recruitment process. It's not just about credentials on paper but also the character and personality. It all comes down to a human element. Learn more about their process and how they've helped build successful companies through their work by tuning in.
---
Optimizing Your Hiring Process With Steve Urban and Scott Kegerreis
The big questions are, "How do business owners like us spend our own money, time and effort? How do we grow our business and jump the line that lets us accelerate the delivery of our products and services in our community while being smart about our growth, profits, and culture, and still creating lasting value in our business?" Those are the questions in this show. We will share some of those answers. Our guests are Steve Urban, CEO and Cofounder, and Scott Kegerreis, CRO and Cofounder of
Riderflex
, a global recruiting and consulting firm. Welcome to the show.
---
Thank you so much for being on the show. It has been a long time. The last time we talked was in February of 2018 on one of the
episodes
 of the show. You have been hitting it out of the park. You have amazing five-star reviews counting over 200. What is it that you offer to your customers? What is it that you do?
For the readers, I'm glad to be back on the show. We are a recruiting firm and what we're here to talk about is our recruiting business. If it wasn't for you, I don't think
Riderflex Podcast
 that we would do would not exist if it wasn't for you because you gave us that suggestion way back a long time ago. I always think to myself, "The podcast we have would not exist without Bob." Thank you for the mentoring and advice you gave us way back then. You have a wonderful show and all the guests that you have had on. I try to mimic that a little bit and follow your lead, especially early on when I was first getting started. Thank you for the advice and the relationship that we have. With Bob Roark is appreciated. For the readers, Riderflex is a generalist boutique recruiting firm for all industries and functions nationwide from C-level to associates. We are having great success building the company. Scott and I started it in late 2016. We both came from executive backgrounds. I was an operations guy and Scott was a sales guy. We had met each other working at a horticulture outfit. We bonded and had a lot of similarities. We enjoyed being around each other so we stayed in touch. I called him and said, "I want to turn
Riderflex
 into a recruiting firm." He's like, "There are 20,000 recruiters. Why do we want to do that?" I said, "Most of them suck. We can do a lot better." I've got some ideas on how to do it the right way because I had dealt with and hired recruiters, and recruiters had worked for me because I had run a couple of $40 million companies as a CEO. I had a lot of experience in hiring, interviewing and dealing with recruiters. I knew it could be done better. At Buffalo Wild Wings, after the 3rd or 4th beer, I finally scratched out on a napkin what I thought we should do. I was trying to convince Scott to come to help me do it because I was an ops guy but Scott was sales. I knew that he could sell it and I could execute it. That's how it got started but I will let Scott give a better overview of who we are and what our secret sauce is as a search firm.
For us, it all comes down to why did we start it. We were executives leading companies and it came down to our experiences. When he says that, "Most of them suck," the part that we found, where there was a lack of value was the attention to our company, culture, our needs, and what we are needing. It felt and still feels like with all the new technology and different algorithms that you can run that people are now a commodity. It feels like a lot of the recruiting has turned people into a commodity and we are just trading paper. It is a job description for racing resumes.
Most recruiting firms are quickly trying to grab some resumes and match that to the job descriptions in an effort to get paid and make employment matches. We started the company Riderflex because we felt like the industry was broken and there was a better way. What we are trying to do is put an emphasis and focus back on the company and the culture. When we say culture, we are talking about how do companies work? What's their headcount? What's their revenue growth? What is the leadership style? Who are the hiring managers? How do all these people and pieces come together and function as an organization?
The best algorithms out there can very easily go scrape the internet, pull down 30 to 40 profiles from individuals, match keywords and all those people tactically can do the job but the heart and the meat of it come down to being thorough in interviewing and selecting folks that have the personality, character, attributes and most importantly the experiences to fit well with how an organization operates and works.
[bctt tweet="With all the new technology that's out there and all the different algorithms that you can run, it feels like a lot of the recruiting has turned people into a commodity." via="no"]
Of all these people that might match on paper, some are going to be well-suited for Fortune 500 and big organizations, "Let me come in and do my thing, retreat to my home and do that over and over again." They are comfortable in that and that's great. There's a place for everybody that has that particular profile. There are other people that enjoy risk, the fast pace of a startup, scaling, and wearing many hats. In some cases, their compensation is geared towards some equity in the organization and they can forgo some of that upfront compensation.
Our whole purpose and process are designed to dig in with the organization at the beginning and do a very good thorough discovery call where we get to talk with as many people as possible that are involved with the hiring process. It could be an owner, founders, hiring managers or any individual that's responsible for hiring and working with the candidates that are going to be coming through.
We are doing that deep dive and discovery call, having our recruiters, and very talented team go out there and do an exhaustive and thorough search to not only find individuals who can do the job. These people have to check the boxes, come in and be able to tactically perform on the role itself but also get deep with these candidates.
We do that through video interviews and Steve has conducted most of those at the very beginning. We have another executive-level individual, Becky Roach, on our team who also conducts these video interviews. These are individuals, Steve and Becky, that have built hundreds of teams, hired thousands of people, and know how to have a conversation with an individual to understand them, learn about who they are, those experiences, characters and attributes. They help the recruiter decide if this individual is going to work well within the organization.
If somebody gets to a video interview, they tactically can do the job. They are a good fit. They will be able to come in and execute. The video interview is designed to talk to the candidate or the individual and make sure they are going to work well with Bob or whoever the owner of the organization is. It has been a very good process for us. Since we started in 2016, we have had 2,000 placements and created a database of almost 200,000 potential candidates for our team to look through along with new people that we can pull in.
It has created a 90%-plus and many times it hovers around 96% retention rate for that manager level and up individuals. It has contributed well to our clients in building strong and long-lasting teams to the point where once we are able to work with a particular company and hiring managers. They trust us and our team to do it for them again when they need more help. It's an all-out effort to make sure that we are moving past the algorithm and ensuring that we are bringing the best-quality individual and talent to an organization to fit how they work. Steve, what else is in there?
You covered that pretty well for the readers. Let's say you are a startup to a midsize company, you are overwhelmed, scaling up, and need to hire five people. You don't have time, an in-house HR person or recruiter. If you do, they are overwhelmed and they don't have time to find people. I would give Riderflex a call. We are happy to help you. Our prices are generally 25% lower than most of the competition because we have very low overhead and no office. Scott and I don't pay ourselves big salaries so our prices are very competitive. I would give us a call. What's important to keep in mind and taking from what Scott said, we are going to get to know you, the client. We want to know how you work and what your style is. We are going to take time to find candidates that fit, that put them through video interviews, and exhaust efforts to make sure they match you. What we won't do is race resumes. If you call us and say, "I need a VP of Sales," we are not going to start sending you resumes two days later. We are going to go through a process where we are vetting 200 to 300 people, doing 30 to 40 phone screenings, doing 10 to 15 video interviews, and picking 3 or 4 finalists to give to you, which will happen over 30 days or so. People get confused. A lot of executives that don't know how the recruiting world works are attracted at first to this contingency thing that some of these firms pitch. These search firms will call an executive and say, "You don't have to have an agreement. We don't have to have a relationship. We don't have to sign a contract. You don't have to give us a deposit upfront. You don't have to give us an exclusive. Let us work on it and we will start shoving you resumes as quickly as possible." [caption id="attachment_5975" align="aligncenter" width="600"]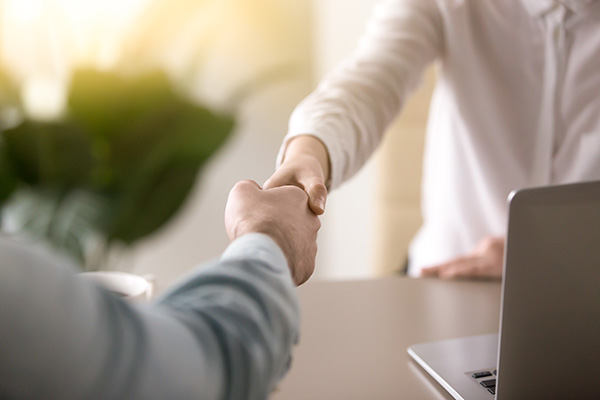 Hiring Process: The meat of it comes down to being very thorough in interviewing and selecting folks that have the personality, the character, the attributes, and most importantly, the experiences to fit well with how an organization operates and works.[/caption] The executive hears this and they are thinking, "I don't have to put up a deposit or an exclusive. They are going to send me people. I don't have to pay them anything unless I hire somebody." What happens then is they get a watered-down service from some recruiter that doesn't even know the company, and hasn't even talked to the hiring manager. They start shoving resumes where keywords from the resumes match keywords on the job description. That's not recruiting. That's algorithm work or administrative work. That's not real recruiting and that's not what we do. We are going to spend time vetting the right people to match your company. Here's a great example. Everybody talks about startups and how matching cofounder personalities and styles early on in a startup is so critical. Everybody talks about like, "Make sure the startups and the founders get along in their styles and personalities because it's going to be so important. You are going to be living, breathing, and working together. That's going to make or break the company. The long-term is, whether or not the founders get along." As the company grows, you move away from that. All of a sudden, the hiring managers get into this racing resumes algorithm keyword and they stop focusing on whether or not the person is right for the company culture. That's fascinating. The reason Scott and I have grown 30%, 40% or 50% every year since we started, and we are still growing and having a ton of fun, is because we get along. I can talk to Scott about how my wife is getting on my nerves. I will call him and be like, "My wife is bothering me. I want to talk to you about it." We can talk about politics and sports and have beers together. All those things matter. They matter because you are working with these people side by side. Interestingly, we get away from that. Startups concentrate heavily on making sure people get along early on but as they get bigger, they start hiring for keywords and that's a mistake.
You get along and you are still adding. How many folks work with Riderflex now in your team?
We have fifteen people active in total but that does scale up and down depending on how many projects we have going on. We have 5 full-time employees and 10 contractors. The contractor group scales up and down depending on how busy we are. It keeps growing. We keep adding 1099 contractors. The culture is so important. People talk about it. They use that buzzword. Everybody likes to say culture and everything on social media but do they emphasize it and mean it when they deal with their team? Do they take action on it versus just using it as a buzzword? For us, it's critical. We want the employees to love working here, have a work-life balance and flexibility on their schedules, be able to work remotely from wherever they want, and work on assignments that they enjoy. That is reflected in our Glassdoor reviews, which are very strong from our team because it's very important for us to have them love being here. We don't want it to just be a job. We build this culture where we say, "I don't care if you work 5:00 AM to 1:00 PM or 3:00 PM to 11:00 PM. Get the job done." [bctt tweet="Hire people that match you and teach them the skills they need to have to help you grow as a company." via="no"] If you want to work from the beach with your laptop or at the library, I don't care. We give them lots of flexibility with scheduling and where they work from, and autonomy to be able to do the job. We don't micromanage them. We want it to be a fun and enjoyable culture where family and work-life balance matter. That is important to us. Scott and I had talked way early on. He was very good. We will be having beers and he's like, "We are not having a little bit of fun doing this. I don't care how much money we are making. I don't want to do it unless we are having fun." That's important. As you get older, you start to realize, "Life is short. I want to enjoy what I'm doing." If you are making $1 million a year but you are miserable, is your life better if you make $500,000 a year, you love who you are working with and you are having a ton of fun? It is. That's an example of the culture we have here. It's important to us and we spend a lot of time on that.
With the culture thing, practice what you preach. We are very diligent about that as well when we talk to contractors, people, and even our full-time employees that want to be on the team. We spend a lot of time upfront interviewing, talking, and getting them on video, asking why Riderflex and making sure they have done their homework, looked at who we are, and how we operate.
Hiring is not perfect. They haven't all lasted but the majority of the team we've got in place fit the culture well. We love working with them and they love working with us. They are the key contributors to that growth. Steve mentioned some stats there on the growth we have had. It's because we all enjoy working together, we know what the goal is, we are all pushing in the same direction and everybody fits the culture well. We have a lot of fun doing it.
The thing that strikes me is you've got to eat your own cooking. If you are not taking or doing the same thing in your company that you are doing for your customer, it's evident pretty quickly. I work with a number of business owners and firms that actively buy and sell companies. What struck me is, in many cases, you will find a company where the founders are ready to exit and they find out that it has a job, and it doesn't have a team. The people that are advising them said, "You need to start building out your team so this business can function without you being here." Let's say that I'm a quintessential entrepreneur. I do payroll and all my work. I'm the COO and the main cell. I do everything and doing fairly good in the revenue space. What kind of conversation would you have with me, that business owner, trying to establish pecking order? Who do you hire first? What might you ask that individual?
It's relevant to where we are as a company because we have grown. Scott and I started doing everything ourselves. We look at the stamps and we are doing it all. As you grow, you have to eventually hire people you can delegate to because you can't do it all as a founder. Most founders start that way but you can't do it all. You do have to eventually delegate. I would encourage a few things.
[caption id="attachment_5976" align="aligncenter" width="600"]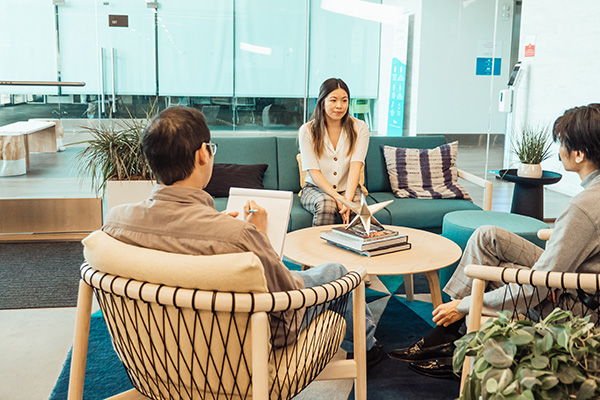 Hiring Process: There really is no perfect person or perfect candidate. If it feels right and it feels good, that's the moment when owners and hiring managers should be making the move to extend an offer and bring that individual onto the team.[/caption]
First of all, I would hire people that fit your style and culture over specific experiences. That's important. Let me give you a perfect example.
Brianna Derrera
, who is our VP of Operations and has been with Scott and me almost since the beginning, controls all ops and HR. She grew with us. We knew that she fit our style, personality and culture. We knew she could put up with me and Scott. Was she qualified on paper at the time to end up being in the job she's in? No, but now she's fantastic at it and she has been with us for years now.
My point is to hire people that match you and teach them the skills they need to have to help you grow as a company. You can't always do that. Let's say you need a software developer. You don't know how to write code and you've got to bring in somebody to write code for you. That's a little different. If you can, bring in people that fit your style and teach them what you need them to do. Delegate what you already know how to do first and that...