In this week's episode, my amazing wife, Leslie Stamper, offers trauma-informed strategies to
help teachers identify and respond to student triggers, anxiety, and emotional dysregulation. 
In this episode, we discuss:
Tools in the classroom to help student with trauma

And additional book recommendations on trauma-informed strategies
About Leslie and Joshua
Joshua and Leslie became foster parents in 2011, and had the privilege of adopting three of their children from foster care. Joshua and Leslie are trained in trauma-informed practices for meeting the emotional, social and behavioral needs of children who have been through adverse childhood experiences, which Joshua also applies to his role as administrator. Joshua and Leslie have co-written the following blog posts to help and support other educators and parents with Trauma Informed practices:
Book Recommendations on Trauma-Informed Practices
https://www.amazon.com/Body-Keeps-Score-Healing-Trauma/dp/0143127748?crid=1O5D588VBOT5S&keywords=The+body+keeps+the+score&qid=1652637931&s=books&sprefix=the+body+keeps+the+score%2Cstripbooks%2C119&sr=1-1&linkCode=ll1&tag=aspirewebsite-20&linkId=a588744a5fe757ecfab919a75e845d96&language=en_US&ref_=as_li_ss_tl https://www.amazon.com/What-Happened-You-Conversations-Resilience/dp/1529068509?crid=1DH1A4731BS8K&keywords=What+happened+to+you&qid=1652637990&s=books&sprefix=what+happened+to+you%2Cstripbooks%2C120&sr=1-1&linkCode=ll1&tag=aspirewebsite-20&linkId=b7efbe8780b9b0ad03204a90f834fadb&language=en_US&ref_=as_li_ss_tl https://www.amazon.com/Far-Tree-Robin-Benway/dp/0062330632?crid=278REE6J1AHKT&keywords=far+from+the+tree&qid=1652638037&s=books&sprefix=Far+fr%2Cstripbooks%2C121&sr=1-1&linkCode=ll1&tag=aspirewebsite-20&linkId=84f53f4a4b676c3f341425da76d9ccf4&language=en_US&ref_=as_li_ss_tl
NEW Aspire Swag with Discount Code: ASPIRE
[caption id="attachment_3508" align="alignnone" width="1024"]
Aspire: The Leadership Development Podcast Swag, Joshua Stamper, Teach Better[/caption]
Tee-Shirts and Drinkware:
ASPIRE: The Leadership Development Podcast
This post contains affiliate links.
When you make a purchase through these links, The Aspire Podcast gets a small percentage of the sale at no extra cost to you.
Need a Presenter for a conference or school PD?
Contact Joshua Stamper
for presentations on Restorative Practices, Leadership Development, and Innovative campus systems.
Watch my session on Trauma Informed, restorative and social emotional practices at
www.teachsummit.com/stamper
Follow the Host, Joshua Stamper:
Contact:
https://joshstamper.com/contact/
Twitter:
www.twitter.com/Joshua__Stamper
Instagram:
www.instagram.com/joshua__stamper
Linkedin:
www.linkedin.com/in/joshua-stamper
Facebook:
https://www.facebook.com/AspirePodcast
Subscribe:
https://podcasts.apple.com/us/podcast/aspire-the-leadership-development-podcast/id1384210762?mt=2
Aspire to Lead made it to the Best New Education Books
I'm happy to announce that my book, "Aspire to Lead", made it to
BookAuthority's Best New Education Books
.
[caption id="attachment_3718" align="alignnone" width="1024"]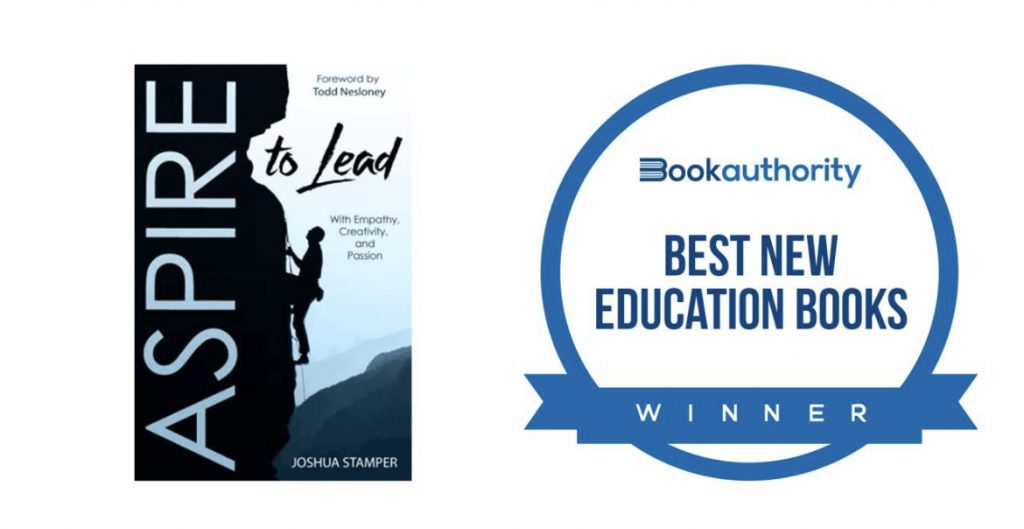 Aspire to Lead, Joshua Stamper, Book Authority Award, Best new book[/caption]
BookAuthority collects and ranks the best books in the world, and it is a great honor to get this kind of recognition. Thank you for all your support!
The book is available for purchase
on Amazon
.
https://www.amazon.com/gp/product/1953852386/ref=as_li_tl?ie=UTF8&camp=1789&creative=9325&creativeASIN=1953852386&linkCode=as2&tag=aspirewebsite-20&linkId=0d9c336e3db6ab16cbb08421ef3e4175
Review the Podcast
I want to give a huge shout out to those who have taken the time to provide a review on Apple, Spotify or any other podcast platform. It truly means the world to me that you would take the 30- 90 seconds to share how the podcast has positively impacted you or why other educators should check out the show.
[caption id="attachment_3022" align="alignnone" width="1024"]

Teach Better Podcast Network, Aspire: The Leadership Development Podcast[/caption]