Jonathan Oakes joins me on the Learning on Fire podcast and explores the most important learning and educational moments that shaped his life.
Our guest – Jonathan Oakes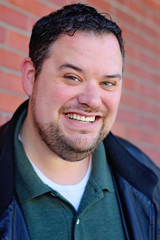 Jonathan's passion for trivia led him to create Trivial Warfare one the worlds leading podcasts in that niche.
So far Jonathan has combined this passion with a successful career as an IT manager. But as the show goes from strength to strength you can find out how by following his dream Jonathan now has the opportunity to do the thing he loves the most full time. However the real story is that by doing this, he is creating a community of likeminded people which is a world apart from his experience as a youngster.
Jonathan has a B.S. in  Communication and a recently earned MBA. On Trivial Warfare he specializes in History, Sports, Mythology, and Presidents.
In this interview Jonathan discusses how the things that are painful in the early part of your life can become the things that give you the most growth and understanding as you mature. This awareness can become a gift to show you who you truly are.
"Even if it is the end of something it doesn't necessarily mean it is the end of everything"