In this week's episode,
Tisha Richmond
shares her experience of losing joy as a teacher and how using gamification in her classroom increased her happiness, student motivation, and overall engagement. 
In this episode, we discuss:
How to create the "Extreme Lesson Makeover"

The origin story of Tisha's podcast 

And

her book, Making Learning Magical

! 
About Tisha Richmond:
Tisha is a district Student Engagement and Professional Development Specialist,  international speaker, and author from Southern Oregon. She taught Family and Consumer Science for 25 years and has served in various leadership roles at the regional and national level. She recently co-founded Southern Oregon CUE, the first CUE affiliate in Oregon.
Tisha is the author of the book Make Learning MAGICAL, which unlocks seven keys to transform teaching and create unforgettable experiences in the classroom. She speaks nationally on a variety of topics related to teaching and learning in all content and grade levels. ​In 2018, she was a recipient of Medford School District's Golden Pear Educator Secondary Teacher Award and a first place winner of the Henry Ford Innovation Nation Educator Award. 
Tisha is passionate about infusing joy, passion, play, and gamified strategies to immerse and empower our 21st century learners and make learning a MAGICAL experience for all! She connects globally with educators around the world continuously reaching beyond her comfort zone to grow and help transform the educational landscape so all learners can thrive.
Follow Tisha Richmond:
https://www.amazon.com/Make-Learning-Magical-Unforgettable-Experiences/dp/1946444995?crid=1N89DL2MMTPFP&keywords=making+learning+magical&qid=1670699948&sprefix=making+learning+magical%2Caps%2C157&sr=8-1&linkCode=ll1&tag=aspirewebsite-20&linkId=32c5ecc182eb8a0a4bc172a82f503280&language=en_US&ref_=as_li_ss_tl
New OFFICIAL Sponsor of the Aspire to Lead Podcast!
As a passionate coffee drinker, I am always looking for the best cup of premium coffee. Once Leslie and I tasted Papa Rob's Coffee, we instantly fell in love with the flavor of the Espresso Special Blend.
Papa Rob's Coffee
is the only coffee we drink and I'm proud to have them as the exclusive sponsor of the podcast!
Papa Rob's Roasting Company was started to pass on the love for premium coffee that is as fresh as it is delicious! Rob sources only the finest green coffee beans from around the world and then roasts them to perfection upon order in small batches, so that they will always be at their peak flavor and freshness. One taste and you will experience the difference!
Make sure you use the coupon code "
Aspire15
" to save
15% off
your order!
[caption id="attachment_3508" align="alignnone" width="1024"]
Aspire: The Leadership Development Podcast Swag, Joshua Stamper, Teach Better[/caption]
Aspire Swag with Discount Code: ASPIRE
Tee-Shirts and Drinkware:
ASPIRE: The Leadership Development Podcast
This post contains affiliate links.
When you make a purchase through these links, The Aspire Podcast gets a small percentage of the sale at no extra cost to you.
Need a Presenter for a conference or school PD?
Contact Joshua Stamper
for presentations on Restorative Practices, Leadership Development, and Innovative campus systems.
Watch my session on Trauma Informed, restorative and social emotional practices at
www.teachsummit.com/stamper
Follow the Host, Joshua Stamper:
Contact:
https://joshstamper.com/contact/
Twitter:
www.twitter.com/Joshua__Stamper
Instagram:
www.instagram.com/joshua__stamper
Linkedin:
www.linkedin.com/in/joshua-stamper
Facebook:
https://www.facebook.com/AspirePodcast
Subscribe:
https://podcasts.apple.com/us/podcast/aspire-the-leadership-development-podcast/id1384210762?mt=2
Aspire to Lead Won the FireBird Award!
[caption id="attachment_4030" align="alignnone" width="1024"]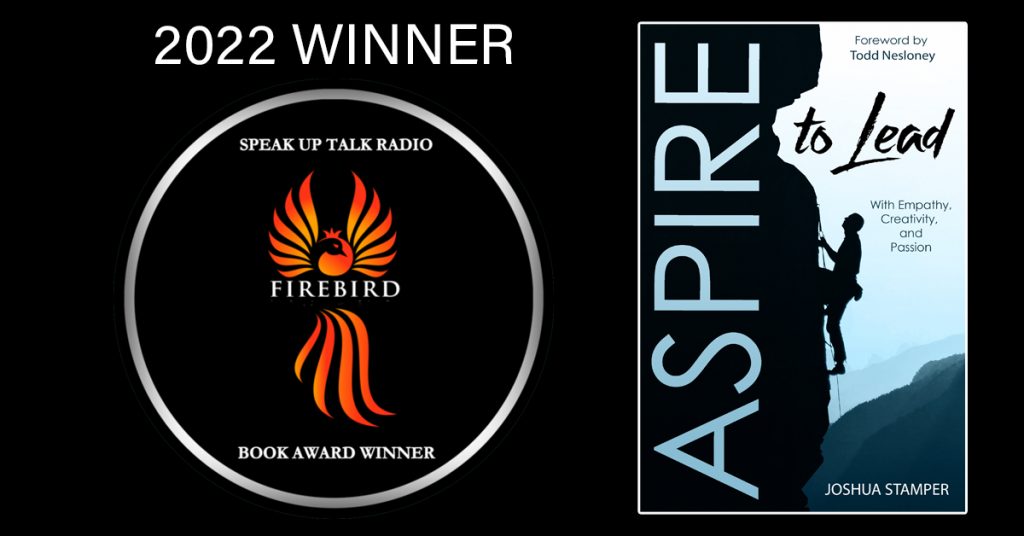 I'm happy to announce that my book, "Aspire to Lead", won the 2022 Leadership Book Award from Speak Up Talk Radio! 
[/caption]
It is a great honor to get this kind of recognition and I really appreciate all your support!
The book is available for purchase
on Amazon
.
https://www.amazon.com/gp/product/1953852386/ref=as_li_tl?ie=UTF8&camp=1789&creative=9325&creativeASIN=1953852386&linkCode=as2&tag=aspirewebsite-20&linkId=0d9c336e3db6ab16cbb08421ef3e4175 [caption id="attachment_3962" align="alignnone" width="1024"]

Aspire to Lead Course, Joshua Stamper, Teach Better[/caption]
Review the Podcast
I want to give a huge shout out to those who have taken the time to provide a review on Apple, Spotify or any other podcast platform. It truly means the world to me that you would take the 30- 90 seconds to share how the podcast has positively impacted you or why other educators should check out the show.
[caption id="attachment_3022" align="alignnone" width="1024"]

Teach Better Podcast Network, Aspire: The Leadership Development Podcast[/caption]