In today's educational climate of budget shortages, rigid testing standards, and diminishing autonomy in the classroom, how can teachers bring creativity and passion back into their work? In this week's episode, CJ Reynolds offers educators struggling with these issues and feeling burnt out a way to hit the reset button and reconnect with what energizes them about teaching.
In this episode, we discuss:
About CJ Reynolds:
Mr. Reynolds is a West Philadelphia high school literature teacher, author, YouTuber, & public speaker. In his book, Teach Your Class Off, on his YouTube Channel, Real Rap With Reynolds, and on his Podcast, Sunday Night Teacher Talk, Reynolds offers an authentic glimpse into what it looks like to teach high school in the inner city. Using "Real Rap" to share teaching tips and strategies, Reynolds helps new and veteran teachers alike become the teacher they always dreamed of being.
Follow CJ Reynolds:
https://www.amazon.com/Teach-Your-Class-Off-Teaching/dp/195160010X?crid=3BROTRPFRQR7O&keywords=real+rap+with+reynolds&qid=1650747175&sprefix=real+rap+with+reynolds%2Caps%2C127&sr=8-3&linkCode=ll1&tag=aspirewebsite-20&linkId=aab1975b82a180d6741cfe0700afe56f&language=en_US&ref_=as_li_ss_tl
Are you a superfan of the Aspire podcast? Well, now you can show off your support with the new Aspire swag, featuring tee shirts, hoodies and a variety of drinkware. You can find all your Aspire Swag at
www.teachbetter.com/swag
[caption id="attachment_3508" align="alignnone" width="1024"]
Aspire: The Leadership Development Podcast Swag, Joshua Stamper, Teach Better[/caption]
Use Discount Code: ASPIRE for 25% OFF
Tee-Shirts, Hoodies, and Drinkware:
ASPIRE: The Leadership Development Podcast
This post contains affiliate links.
When you make a purchase through these links, The Aspire Podcast gets a small percentage of the sale at no extra cost to you.
Need a Presenter for a conference or school PD?
Contact Joshua Stamper
for presentations on Restorative Practices, Leadership Development, and Innovative campus systems.
[caption id="attachment_3838" align="alignnone" width="1024"]
TEPSA, presenting Joshua Stamper, Aspire to Lead, #AspireLead[/caption]
Watch my session on Trauma Informed, restorative and social emotional practices at
www.teachsummit.com/stamper
Follow the Host, Joshua Stamper:
Contact:
https://joshstamper.com/contact/
Twitter:
www.twitter.com/Joshua__Stamper
Instagram:
www.instagram.com/joshua__stamper
Linkedin:
www.linkedin.com/in/joshua-stamper
Facebook:
https://www.facebook.com/AspirePodcast
Subscribe:
https://podcasts.apple.com/us/podcast/aspire-the-leadership-development-podcast/id1384210762?mt=2
Aspire to Lead made it to the Best New Education Books
I'm happy to announce that my book, "Aspire to Lead", made it to
BookAuthority's Best New Education Books
.
[caption id="attachment_3718" align="alignnone" width="1024"]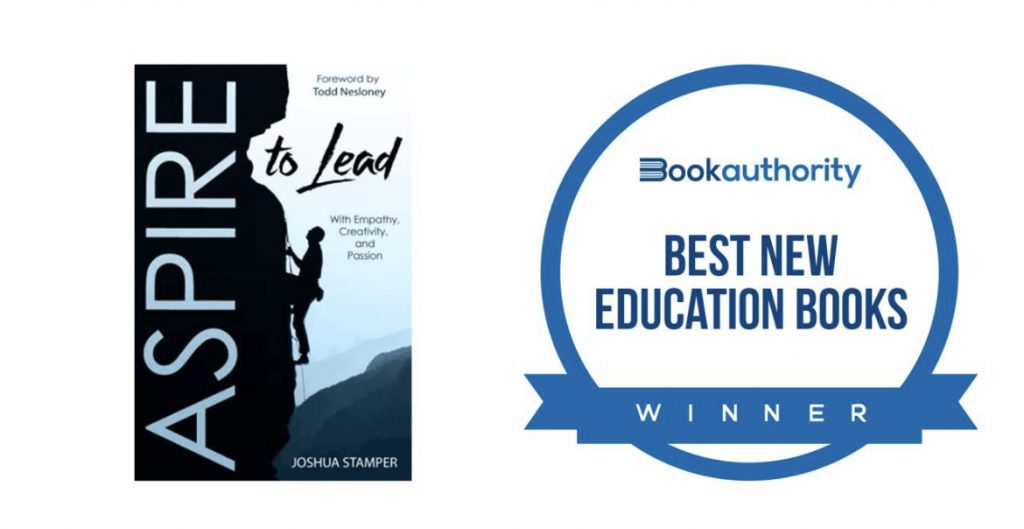 Aspire to Lead, Joshua Stamper, Book Authority Award, Best new book[/caption]
BookAuthority collects and ranks the best books in the world, and it is a great honor to get this kind of recognition. Thank you for all your support!
https://www.amazon.com/gp/product/1953852386/ref=as_li_tl?ie=UTF8&camp=1789&creative=9325&creativeASIN=1953852386&linkCode=as2&tag=aspirewebsite-20&linkId=0d9c336e3db6ab16cbb08421ef3e4175
Review the Podcast
I want to give a huge shout out to those who have taken the time to provide a review on Apple, Spotify or any other podcast platform. It truly means the world to me that you would take the 30- 90 seconds to share how the podcast has positively impacted you or why other educators should check out the show.
[caption id="attachment_3022" align="alignnone" width="1024"]

Teach Better Podcast Network, Aspire: The Leadership Development Podcast[/caption]