We sip on a delicious bourbon, Smoking Wagon, thanks to Chase Mascaro while discussing one of the more serious topics we have ever discussed on TCMS.
Scroll to the bottom of the page for the show transcript
Check out our store and find TCMS stocking caps and hats
ENJOY THE SHOW AND WOULD LIKE TO SEE MORE? SUPPORT TCMS, GET AWESOME THANK YOU GIFTS, AND HELP SPREAD THE WORD.
Become a Patron! Over 40 interviews, a course with Karlo Broussard, a 10 part series on the domestic church, and free thank you gifts for supporting the show!

Travel to Italy, the Holy Land, Scotland, or Europe. Take a Catholic pilgrimage cruise or mix in Faith and Food or Faith and Fitness. No matter where you travel with Select, you will be embraced by faith. All our trips feature daily mass, unparalleled access to sacred sites, local guides that speak your language, and excellent accommodations. We have been helping pilgrims put their feet in the places their faith began for over 30 years. We want to help YOU experience the fun and faith-enriching power of pilgrimage. Click here
About our drink:
Our high rye content bourbon is aged in the heart of a century-old brick warehouse. To ensure a unique and consistent flavor, barrels are hand selected to create a perfect blend that is smooth and at the same time bold and intense.
Released in 2016, our goal was to create a unique great tasting high rye content bourbon.
The problem is that rye ages much faster than corn.
So while our younger vintages had a big rye spice flavor (which we love) the mouth feel was too thin and it lacked the sweet, delicate complexity of a well aged spirit. Our older vintages had the smoothness and sweet notes that can only be achieved by moving in and out of #4 char and caramelized oak for many, many years, but the nice rye spice had been aged out!
So what to do? Find the perfect blend.
We combined the two. The younger vintages maintain the bold spiciness of the rye, cut down on the tannins and keep it fruit forward. The older vintage brings in a creamy mouth feel with sweet aromas and taste notes that only appear over time from aging in a barrel. We hope you enjoy drinking it as much as we enjoy making it.
Nose:
Balanced oak nose with hints of fruit and dried apricots.
Taste:
Initial sweet notes on the front of the tongue. Well balanced mouth feel with spicy notes including white pepper on the middle and back of the tongue from the younger vintage and high rye mash bill.
Good balance of sweet and oak flavors including hints of caramel (from the #4 charred barrels, caramelized wood sugar), fruit flavor and rye spice. Finishes smooth with no alcohol burn even at 100 proof.
2016, 2017 and 2019San Francisco World Spirits Competition Gold Medal Winner
About our gear:
Staple Gun
How much of a big deal can it be to choose a staple gun? Not much, right?
That's what most of us think because staplers are pretty straightforward tools and don't do much other than fastening objects. But guess what, it may not be as simple to pick one that meets all your needs for work around the house or on the job. That's why we decided to create this guide to simplify your search for the best staple gun.
Click here for the top 13 staple guns of 2021
About the Topic:
Experiencing a miscarriage as a husband and father is difficult. This week we talk about our experiences of miscarriages, what to do, how to help as a community, and the importance of praying for them.
Angelica Marie Minihan - Pray for us
Francis Niles - Pray for us
CONGRATULATIONS TO The Catholic Woodworker FOR OPENING UP A NEW OFFICE BUILDING! WE ARE GRATEFUL FOR YOUR SUPPORT AND INCREDIBLY HAPPY FOR YOUR CONTINUED SUCCESS:
Use promo code TCMS10 for 10% off all purchases.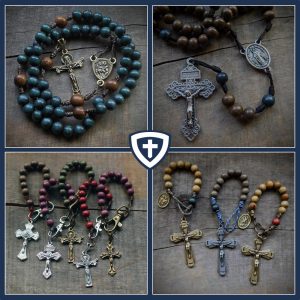 [youtube https://www.youtube.com/watch?v=KmSBJFiktZk]
TIME CODES: If this is your first time listening to The Catholic Man Show, we do 3 things almost every episode:1.) Open, review, and enjoy a man beverage – Minutes 1-12.2.) Highlight a man gear – Minutes 12-24.3.) Have a manly conversation – Minutes 24-48If you haven't listened to The Catholic Man Show before, check out our previous episodes here. Subscribe to our YouTube channel to watch past episodes.
Want to help The Catholic Man Show?
By giving us a rating on iTunes, it helps others find the show.
Want to say up with The Catholic Man Show? Sign up for our mailing list: Click Here
Looking for a prayer to pray with your wife? Check this blog out.
Are you getting our emails? Sign up for our newsletter where we give you all bacon content – never spam.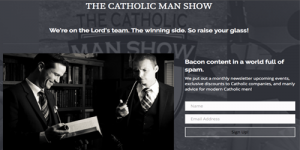 If you enjoyed this episode of The Catholic Man Show and are looking to protect your family from the dangers of the internet, go to Covenant Eyes and use promo code "Catholicman" for a 30-day free trial of keeping your family safe.