This week's guest, BreAnn Fennell, shares how play in the classroom can address the physical and emotional development of our students, while increasing engagement. 
In this episode, we discuss:
About BreAnn Fennell:
BreAnn Fennell is a 1
st
and 2
nd
grade looping teacher at Reagan Elementary in Ashland City School District. She has earned the title of Ohio Teacher of the Year for 2021 for District 5. She has 12 years of teaching experience, educating students in 1st, 2
nd
, and 3
rd
grades. She believes that early education and interventions can change the course of a child's life. 
Fennell holds a bachelor's degree in early childhood education with an endorsement in reading from Ashland University and a 4-5
generalist endorsement from The Ohio State University. She has a master's degree in Curriculum and Instruction from Ashland University. She is always learning and serving the world of education through training, presentations, and committees. 
Fennell is the author of children's books including
Play? Yay!,
Choose Your Cheer
, and
Play? Yay! Baby Talk.
She is a defender of play in the classroom and looks for ways to incorporate fun into learning. She believes in the power of play for social, emotional, and motor skills and has volunteered her time to have a Lego Club for kindergarten through third grade students.  She is the founder of the Young Author's Workshop at Ashland City Schools. She loves books and is always looking for ways to integrate reading into the classroom and promote literacy in the community. 
Follow BreAnn Fennell
Teach Better Blog Series: 
https://www.teachbetter.com/blog/play-better-why-we-all-need-play-right-now/
Teach Better Conference Code for $50 off registration: ASPIRE2022 at 
http://www.teachbetter.com/conference
https://www.amazon.com/Play-Yay-BreAnn-Fennell/dp/1970133554?crid=3AF6S5KQCMN1N&keywords=breann+fennell&qid=1655058767&s=books&sprefix=%2Cstripbooks%2C112&sr=1-3&linkCode=ll1&tag=aspirewebsite-20&linkId=bce2ac65ea4219b7ff0917a81591ffcb&language=en_US&ref_=as_li_ss_tl https://www.amazon.com/Choose-Your-Cheer-BreAnn-Fennell/dp/1953852416?crid=3AF6S5KQCMN1N&keywords=breann+fennell&qid=1655065949&s=books&sprefix=%2Cstripbooks%2C112&sr=1-2&linkCode=ll1&tag=aspirewebsite-20&linkId=451f43d74703ed4a981a3087ea68d82b&language=en_US&ref_=as_li_ss_tl
NEW Aspire Swag with Discount Code: ASPIRE
[caption id="attachment_3508" align="alignnone" width="1024"]
Aspire: The Leadership Development Podcast Swag, Joshua Stamper, Teach Better[/caption]
Tee-Shirts and Drinkware:
ASPIRE: The Leadership Development Podcast
This post contains affiliate links.
When you make a purchase through these links, The Aspire Podcast gets a small percentage of the sale at no extra cost to you.
Need a Presenter for a conference or school PD?
Contact Joshua Stamper
for presentations on Restorative Practices, Leadership Development, and Innovative campus systems.
Watch my session on Trauma Informed, restorative and social emotional practices at
www.teachsummit.com/stamper
Follow the Host, Joshua Stamper:
Contact:
https://joshstamper.com/contact/
Twitter:
www.twitter.com/Joshua__Stamper
Instagram:
www.instagram.com/joshua__stamper
Linkedin:
www.linkedin.com/in/joshua-stamper
Facebook:
https://www.facebook.com/AspirePodcast
Subscribe:
https://podcasts.apple.com/us/podcast/aspire-the-leadership-development-podcast/id1384210762?mt=2
Aspire to Lead made it to the Best New Education Books
[caption id="attachment_3718" align="alignnone" width="1024"]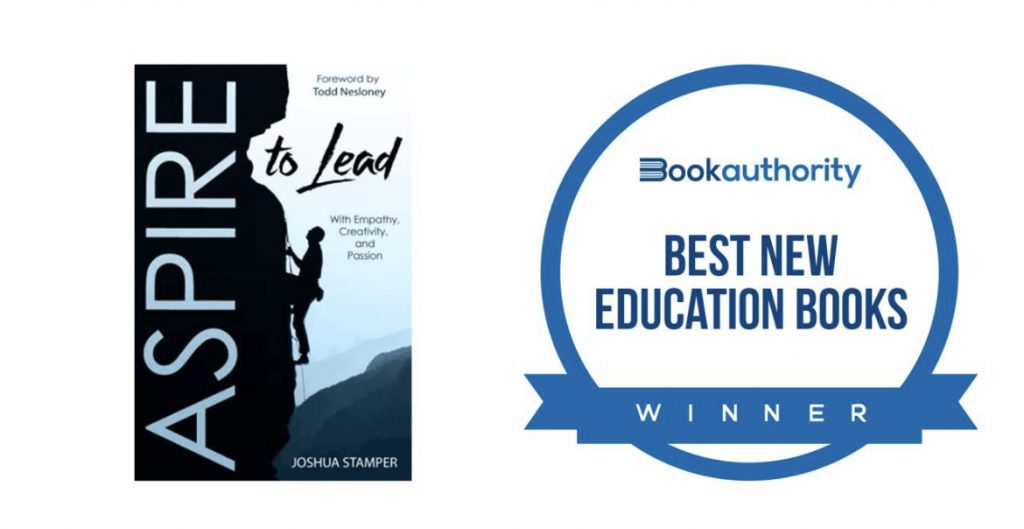 Aspire to Lead, Joshua Stamper, Book Authority Award, Best new book[/caption]
I'm happy to announce that my book, "Aspire to Lead", made it to
BookAuthority's Best New Education Books
.
BookAuthority collects and ranks the best books in the world, and it is a great honor to get this kind of recognition. Thank you for all your support!
The book is available for purchase
on Amazon
.
https://www.amazon.com/gp/product/1953852386/ref=as_li_tl?ie=UTF8&camp=1789&creative=9325&creativeASIN=1953852386&linkCode=as2&tag=aspirewebsite-20&linkId=0d9c336e3db6ab16cbb08421ef3e4175
Review the Podcast
I want to give a huge shout out to those who have taken the time to provide a review on Apple, Spotify or any other podcast platform. It truly means the world to me that you would take the 30- 90 seconds to share how the podcast has positively impacted you or why other educators should check out the show.
[caption id="attachment_3022" align="alignnone" width="1024"]

Teach Better Podcast Network, Aspire: The Leadership Development Podcast[/caption]