https://youtu.be/d1-HcrmriME
John DiJulius
is redefining customer service in corporate America today. He didn't read the books on customer service, he wrote them:
Secret Service, Hidden Systems That Deliver Unforgettable Customer Service
,
What's The Secret? To Being a World Class Customer Service Organization
,
The Customer Service Revolution
, 
The Best Customer Service Quotes Ever Said
, and
The Relationship Economy
One of the most captivating and charismatic speakers today, John's keynotes and workshops are used by world-class service companies to provide unforgettable customer service every day. In his high-energy presentations, he uses powerful visuals as he discusses the 10 commandments of customer service and explains how to improve the service aptitude of employees at all levels. As the authority on world-class customer experience, organizations across America use his philosophies and systems for creating world-class service. He has worked with companies such as the The Ritz-Carlton, Lexus, Starbucks, Nordstrom, Panera Bread, Nestle, Marriott Hotel, PWC, National City Bank, Cheesecake Factory, Progressive Insurance, Harley Davidson, State Farm, Chick-fil-a, and many more, to help them continue to raise the bar and set the standard in service that consistently exceeds customer expectations.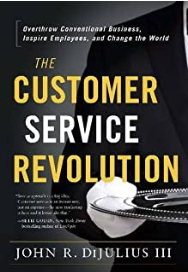 John is not just telling others how to do it. His strongest attributes may not only be that he has the experience of working with extremely large companies, but knows how to translate those processes to fit small business models as well. Not only is John the Owner, President and Chief Revolution Officer of The DiJulius Group, he is also the Founder, President and Owner of John Robert's Spa; Named one of the Top 20 Salons in America with multiple locations (and over 150 employees), which he uses as living laboratories to test his findings and theories. Check John's other episodes
HERE.
Alan Beech
 knows what it takes to succeed in today's marketplace. With more than 30 years of experience in the business world, he has worked his way to the top of the automotive service industry in Canada. Alan's professional career has spanned within both the corporate and entrepreneurial spaces. Today Alan has a number of successful businesses to his credit. Alan is driven by his desire to share his extensive knowledge of the industry and to help others succeed. His main focus today is coaching, consulting and training independent shop owners and dealer groups. Alan's passion is to see businesses be revitalized through great process and amazing customer experience. Find Alan Beech's previous episodes 
HERE
.
Key Talking Points:
Investing in customer experience- being intentional in service you deliverThere's a science to have customers keep coming back- showing you care about customer
Can't just tell yourself you're the best in the industry, instead, you need to compare yourself to other experiences you have
The wrong motto is "treat the customer as you want to be treated"- everyone needs service aptitude training because people naturally have different levels depending on age and what they've experienced themself
Can't out market or outspend your competition- need to out love them with customer experience
Focus on appreciating customers that trust you and give you their business
Starts with remembering client
Secret service systems- ability to know and collect customer intelligence and personalize itGet to know someones FORD in order to establish a relationship-Family, Occupation, Recreation, and Dreams
Example- customer picks up the car and a new can of pop is waiting in cup holder because technicians saw what they like to drink from the garbage in vehicle
Soft skill trainingRemove personal interpretation of customer service
Do you know who your customer is? Their highs and lows in their life- have compassion and empathy
Deliver genuine hospitality with 5 E's-Eye contact, enthusiastic, greet with an ear to ear smile, engage and educate
When someone thanks you and you reply "no problem" which is a double negative- replace with "my pleasure"
"Don't ask the customer what they want, give them what they can't live without."
"Never expect your customers to be happier than your employees." -customer service starts with the core culture of business and employees
Everyone has seeds of potentialThe seeds that don't reach full potential are cheated
People are dependent on us to be extraordinary so we can lift them
Make customers your priority
Customer Vision Statement from Alan Beech"Life has its priorities, you are mine"
Link to: Chick Fil A "Every Life Has a Story" HERE
Resources:
Thanks to John DiJulius and Alan Beech for their contribution to the aftermarket's premier podcast.
Link to the 'BOOKS' page highlighting all books discussed in the podcast library HERE. Leaders are readers.
Listen for free on Apple Podcasts, Google Podcasts, Spreaker, iHeart Radio, Spotify, Podchaser and many more. Mobile Listening APP's HERE
Find every podcast episode HERE.
Every episode segmented by Series HERE.
Key Word Search HERE.
Be socially involved and in touch with the show:
Facebook   
Twitter   
Linked In   
Email
Join the Ecosystem - Subscribe to the INSIDER NEWSLETTER HERE.
Buy me a coffee

NAPA AutoCare's PROimage program makes it easy for you to make the most of the NAPA brand. A PROimage upgrade lets you maintain your shop's identity as a reliable, locally-owned business while letting your customers and potential customers know you're partnering with NAPA, the most recognized and trusted name in the automotive aftermarket. AutoCare Centers that have completed a PROimage exterior upgrade enjoy an average 23 percent sales increase during the first year. You can also choose to go PROimage on the interior and transform your customer waiting area from merely utilitarian to warm and welcoming. You can even get a free look by visting www.NAPAAutoCare.com and clicking on the NAPA PROimage link under the NAPA PROimage tab. Of course, the AutoCare site is also the place to go to find out about all the advantages being part of the NAPA family has to offer. Learn more about Pro Image and the hundreds of other benefits NAPA offers. Talk with your servicing NAPA store or visit,
www.NAPAAutoCare.com.