In this bonus episode, Starr Sackstein shares her exciting announcement about
Hacking Assessment
and we discuss how to shift the "Grades Mindset", change your grading system, and improve the feedback process. 
In this episode, we discuss:
A No-Grade Classroom

Rebranding Assignments as learning experiences

Project based learning - Teaching the Reflection Process

Ditching the Traditional Gradebook

And her new edition,

Hacking Assessment: 10 Ways to Go Gradeless in a Traditional Grades School
About Starr Sackstein
:
Starr Sackstein is a recovering perfectionist who is an assessment reforming enthusiast. Currently, she works with teacher teams to engage students in the learning process, advocate for personal growth, and effectively use student data to drive instruction with the Core Collaborative. She also works as publisher for Mimi & Todd Press.  In her past lives, she was a high school English and journalism teacher, a lead Humanities learner, and social media manager. 
Additionally, Starr is an author, blogger, and speaker committed to changing the way we do assessment nationally and globally. Her most recent book is called Assessing with Respect: Everyday Practices that Meet Students' Social and Emotional Needs with ASCD. When Starr isn't evangelizing about grading reform, she is the wife to Charlie, mindfulness mountain biker extraordinaire, and mother to Logan, a high school student, and gamer and Huxley the cat, an aging Abyssinean. 
Follow Starr Sackstein 
Hacking Assessment Book (NEW Edition):
https://www.amazon.com/dp/1956512217?&linkCode=sl1&tag=starrsacks-20&linkId=3eb6cd7d997618655b7b038651defa60&language=en_US&ref_=as_li_ss_tl
[caption id="attachment_3508" align="alignnone" width="1024"]
Aspire: The Leadership Development Podcast Swag, Joshua Stamper, Teach Better[/caption]
NEW Aspire Swag with Discount Code: ASPIRE
Tee-Shirts and Drinkware:
ASPIRE: The Leadership Development Podcast
This post contains affiliate links.
When you make a purchase through these links, The Aspire Podcast gets a small percentage of the sale at no extra cost to you.
Need a Presenter for a conference or school PD?
Contact Joshua Stamper
for presentations on Restorative Practices, Leadership Development, and Innovative campus systems.
Watch my session on Trauma Informed, restorative and social emotional practices at
www.teachsummit.com/stamper
Follow the Host, Joshua Stamper:
Contact:
https://joshstamper.com/contact/
Twitter:
www.twitter.com/Joshua__Stamper
Instagram:
www.instagram.com/joshua__stamper
Linkedin:
www.linkedin.com/in/joshua-stamper
Facebook:
https://www.facebook.com/AspirePodcast
Subscribe:
https://podcasts.apple.com/us/podcast/aspire-the-leadership-development-podcast/id1384210762?mt=2
[caption id="attachment_3718" align="alignnone" width="1024"]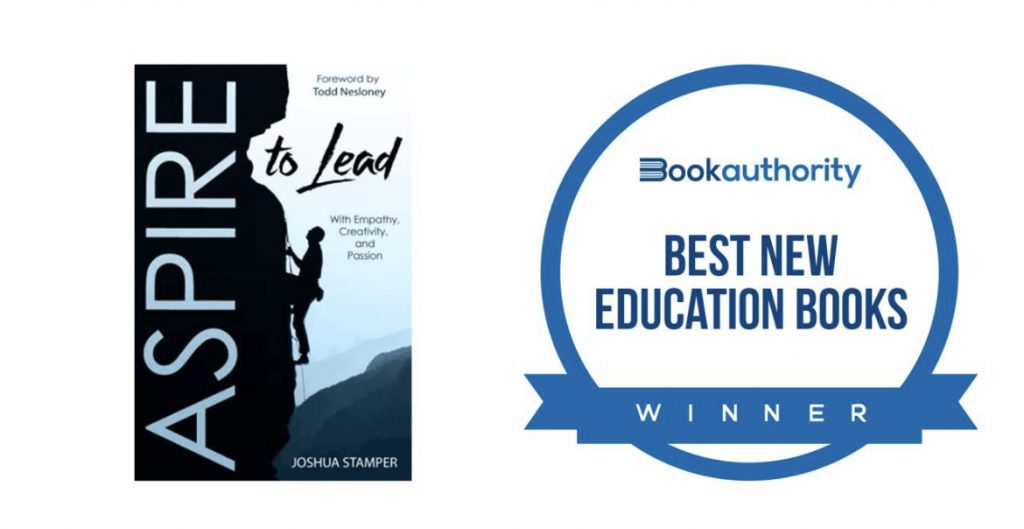 Aspire to Lead, Joshua Stamper, Book Authority Award, Best new book[/caption]
Aspire to Lead made it to the Best New Education Books
I'm happy to announce that my book, "Aspire to Lead", made it to
BookAuthority's Best New Education Books
.
BookAuthority collects and ranks the best books in the world, and it is a great honor to get this kind of recognition. Thank you for all your support!
The book is available for purchase
on Amazon
.
https://www.amazon.com/gp/product/1953852386/ref=as_li_tl?ie=UTF8&camp=1789&creative=9325&creativeASIN=1953852386&linkCode=as2&tag=aspirewebsite-20&linkId=0d9c336e3db6ab16cbb08421ef3e4175
Review the Podcast
I want to give a huge shout out to those who have taken the time to provide a review on Apple, Spotify or any other podcast platform. It truly means the world to me that you would take the 30- 90 seconds to share how the podcast has positively impacted you or why other educators should check out the show.
[caption id="attachment_3022" align="alignnone" width="1024"]

Teach Better Podcast Network, Aspire: The Leadership Development Podcast[/caption]