Are You Committed to Be A Lifetime Learner In The Automotive Aftermarket? Learn Why It Must Be Your Most Important Goal.
Chris Chesney grew up on a farm in North Central KS and was immersed in mechanical things early in his life. His mother died when Chris was 5, so he was his father's primary helper. Chris was driving a tractor while pulling a feed wagon next to a field cutter when he was 6. He couldn't reach the pedals so his dad would put the tractor in low gear and then give him the sign to hit the starter button and off they would go. Chris would gauge the speed of the cutter to allow him to fill the wagon. At the end of the row, his Dad gave him the sign and Chris shut off the tractor. His Dad would then turn the whole mess around and they'd go again.
That same year was the moment that tied Chris to this industry and he remembers it like it was yesterday. He was standing in a Ben Franklin store in Natoma, KS and saw a Road & Track magazine on the rack with a picture of Phil Hill in a Ferrari F1 car and his heart jumped! From that moment to today Chris has been in love with the automobile and as a result of his passion he has been a member of the service industry since his first job, other than working on the farm, at Shorty's Amoco in Stockton KS.
Chesney held every position from tire buster to master technician, from service advisor to shop owner. He has been training technicians and shop owners for 30 years. Chris started his training business, DTEC, in Denver in 1994 where he trained over a thousand techs in the art of transient emissions diagnostics.
Chris was consulted early on at the beginning of CARQUEST Technical Institute (CTI) and ultimately sold his business and moved to Raleigh NC to lead CTI. He still gets up every morning with the same passion he's had since that day in Natoma because he says, this industry is made up of some of the finest people on this planet. They work so hard every day to service their customers and communities. Many are very successful, but many are not.
Our industry is rapidly changing, and all members of our industry are stressed with the onslaught of technology, the aging workforce and shortage of skilled labor. Chris's passion today continues to be leading the very best team of instructors and developers as he helps bring education solutions to the market.
Chris made a commitment to get involved in helping bring the industry together in an effort to find long-term solutions to the issues we all face. He currently serves as Board Chair of the ASE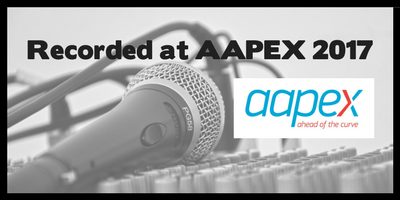 Training Managers Council and a board member of the National Automotive Service Task Force where he works with his peers to create real solutions that our industry needs.
Key Talking Points and Take-A-Ways:
In the early days, Chris had a design to be an engineer for one of the big three. But realized he loved working on cars.
He has a passion for how things work.
Chris would go to Indy with one of his mentors Harley Veers who served as the Bear team lead at the Indianapolis 500. He spent his days in gasoline alley with Harley. That was a big influence on Chris because he can't get enough of technology.

He went with Harley to the first ever ASE test and realized then that the industry wanted to keep the government out of our business by certifying as an industry.

Chris was a Snap-On dealer and also worked for Sun Electric selling scopes.
In some classrooms today we do myth busting to explain the 'truth' and how things really work to help technicians with diagnostics strategies and success.

Getting to the truth today. Example.

A tier one engineering company builds an ADAS system for an OEM the code and the OEM.
The OEM may shortcut the system and does not implement the technology how the tier one supplier intended.
The relationship breaks apart. The tier one supplier says they will not support it. They are at odds with each other.
The truth lies with the tier one supplier who designed it. The OEM does not know how it operates or works, so their engineers need to figure out what to do.

You must commit to becoming a life-long learner.
We have brought the industry together with the NASTF meeting at Vision a few years ago. We must act to find solutions for:

Technician shortage.
Aging population of technicians.
Remodel vocational education and support them in any way we can.

Not one group can solve all the problems.

Chris wants to help model solutions and projects and illuminate to the industry what the possibilities can be.

To test concepts and ideas that provide the industry what the solutions would look like.

We will also have to grow our own instructors.
Carquest Technical Insitute Website
Be socially involved and in touch with the show:
Facebook   Twitter   Linked In   Email
---
This episode is brought to you by Federal-Mogul


Motorparts and Garage Gurus. With brands like Moog, Felpro, Wagner Brake, Champion, Sealed Power, FP Diesel and more, they're the parts techs trust.  For serious technical training and support – online, onsite and on-demand – Garage Gurus is everything you need to know. Find out more at fmmotorparts.com  and fmgaragegurus.com