Shownotes
(Pictured above Eric and Jamie Carlson)
Eric has been a technician for over 40 years. His formal automotive education came from Ferris State University where he took all 8 ASE tests prior to graduation in 1977.  Eric has re-certified every 5 years since. He took the L1 when it was introduced and is now L3 hybrid certified. Full disclosure: Eric is a subject matter expert for ASE and in the past two years has participated in writing test questions for the L3 test.
Eric and his wife Jamie bought Ervine's in 1994. In 2013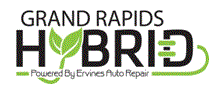 , they added Grand Rapids Hybrid to the family after Eric became the first Master Hybrid Service Technician in Grand Rapids, MI.  Eric has been interviewed by several local television stations and publications seeking his expertise on everything from basic maintenance to the ramifications of "Right to Repair" legislation. Ervine's Auto Repair and Grand Rapids Hybrid became an ASE Blue Seal of Excellence shop when it was introduced and have been since.
Talking Points:
Ervine's came about because Eric asked his supplier to keep his eye out for a potential shop to buy.  He and Jamie found a great opportunity in Ervine's.
Most painful lessons on running the business were his most expensive lessons. In his previous job, he learned how not to run a business so he did the opposite when he opened his own business.
His biggest learning curve was the responsibility to feed all the families that worked for him.
He participated as an ASE subject matter expert on hybrids.

He was amazed and respectful for the time it takes to get an ASE test question right.

He took a Hybrid safety class and that peaked his interest and that set him on a path to become a Hybrid specialist.
He started to look for a training program and found Craig and Deb Van Batenberg at ACDC. (hear them in episode 116)
At the time of the interview, he had 5 hybrids in the shop for repair.

Most of the work is not Hybrid specific. He is doing brakes, HVAC type work.

He believes that the impact of a secondary brand had a bigger impact on his business than just saying that they work on hybrids. They kept the pressure on the market in creating the secondary brand. He believes this strategy paid off in spades.
He has loaner cars and believes that is a competitive edge.
He is the only tech in the shop that works on the high voltage side of hybrid repair. He is considering sending another tech to get that type of hybrid training.
Eric was in a mentoring group at the elementary level in his community.
He places the ASE logo on his building, on his business cards, in the shop and is proud to say the certifications separate the wheat from the chaff.
Eric was also on the Town Hall Academy on ASE. Listen Here.
Shop Profile

| | |
| --- | --- |
| Years in industry: | 40 |
| Year shop ownership: | 24 |
| Number of technicians: | 4 |
| Number of service advisers: | 1 |
| Number of lifts: | 6 |
| Number of bays: | 10 |
| Days open: | Mon-Fri |
| Percent Repair vs Maintenance: | 70-30 |
| Technician training hours per year: | 60 |
| Specialty: | Grand Rapids first qualified independent hybrid repair facility. Eric's knowledge about hybrids is only surpassed by his passion for them. |
| Association memberships: | ASA |
| Supplier marketing program: | NAPA Auto Care |
| ASE Certifications: | ASE Master L-1 Advanced Level, Engine Performance, L-3 Light Duty Hybrid/Electric Vehicle. ACDC Master Hybrid Service Technician |
| ASE Blue Seal: | Yes |
| SMS: | Mitchel 1 -Manager SE |
| DVI: | Shop-Ware |
| Performing hybrid repairs: | Yes |
| Biggest challenges: | Changing Technology but it keeps things interesting. |
| Philantropy: | HQ – Run away and homeless youth drop in center is among them and our current focus for fundraising at our carshow today! |
Be socially involved and in touch with the show:
Facebook   Twitter   Linked In   Email
---
This episode is brought to you by Federal-Mogul


Motorparts and Garage Gurus. With brands like Moog, Felpro, Wagner Brake, Champion, Sealed Power, FP Diesel and more, they're the parts techs trust.  For serious technical training and support – online, onsite and on-demand – Garage Gurus is everything you need to know. Find out more at fmmotorparts.com  and fmgaragegurus.co