"Men who are in the golf business need to step up and recognize that women golfers are here."
Donna Hoffman
Founder & President, Women on Course Oakton, Virginia Back in 2012, Augusta National Golf Club -- long revered in the golfing world as the Sistine Chapel of the sport -- announced with great pride (a "joyous occasion," according to former Augusta Chairman Billy Payne) that the Club had invited bureaucrat Condoleezza Rice and financier Darla Moore to join the club as its first female members. But the sad truth is that women had nothing to cheer about this "joyous occasion" at Augusta. That publicity stunt a decade ago did not represent any meaningful change in the club's policy of exclusion. It simply provided Augusta National with convenient and high-profile validation that the Club would continue to exercise its right to do whatever it wants…whenever it wanted to. Today, in 2021, there are only 6 females in Augusta's roster of approximately 300 members. So much for gender equality. But this podcast is not intended to be a rant against a private club's sexist membership policy. I mention Augusta National for two reasons: First,  Augusta reflects, in many ways, the challenges that women face in exploring any interest they may have in playing the game, and in being accepted as bona fide members of the golfing community…both on the professional and amateur levels. Secondly, it provides a convenient introduction to an individual who, unlike Augusta National, is actually doing something tangible and meaningful…both for women and for the game of golf. Donna Hoffman is a CPA and a self-proclaimed former golf widow who, over the past 16 years, has built one of the most successful national networks of women who are provided opportunities to enjoy the game of golf on their own terms.  By demystifying the game, Donna has removed the intimidation factor, and empowered women to become comfortable and confident in a golf setting. Donna Hoffman is founder of "Women on Course," which has redefined the sport to encompass business networking, travel, socialization and personal style. Each year,
Women on Course
hosts around 800 local golf, social and networking events across the country for its 20,000 members. They also provide custom golf events and programs for organizations seeking to develop their female leaders. In addition to running her organization, Donna speaks to Fortune 500 companies on the value of golf as a confidence builder – as well as a business development tool – while providing beginners a fun and easy on-ramp to be part of the conversation.
Show Highlights:
Highlights of Donna's' journey: from CPA, to owner of video production company, to founder of Women on Course.
The origins of Women on Course; how and why Donna started the organization; its original visions and how it's changed over the years.
The differences between how men and women approach the game of golf.
The best and worst ways for women to get started playing golf.
The misunderstandings and fears that women have that keeps them from learning how to play golf.
Types of courses that are most "women friendly."
Validation that the golfing world still has its share of male Neanderthals who are not enthusiastic to share the game with women.
Notable Quotes: 
On being a "golf widow":
"My husband would go out on weekends and play golf all day, and I was left home with 3 children...I originally had no interest in the sport, and thought it was boring."
On the origins of Women on Course:
"Our film about women in golf was first shown on AOL, and we had more than 30,000 emails from women asking how they could get into the game. That was the catalyst for turning the concept into an event platform. It started out as a happy hour at Flemings Steak House, and we ended up hosting events at 30 of their locations."
On types of women golfers
: "They typically fall into two camps: Either they can take a lesson, but they can't play golf; or they like to play golf, but they don't want to take a lesson. So we started developing different formats for those two groups."

On why Women on Golf is unique:
"We've created a program where a player with a 10 handicap and someone who has never played golf could come to the same event to meet and network."
On introducing women to the game:
"We started teaching women what they needed to know
before
before they came to a golf course...They needed to understand that you just don't go out and play 18 holes."
On teaching women the hard realities of the game:
"I tell them don't take multiple practice swings; that's for the range.  On the golf course, you need to keep moving. And if you want to chit chat, save it for the 19th hole."
The satisfaction Donna gets from her organization:
"I love seeing the confidence that women can gain through learning how to play golf.  We have women who have had struggles in their life...and they're coming to us to try something new, and that takes courage for them."
On fostering the golf / business connection:
"We try to educate women how to leverage the game for business, whether you're swinging the club or not; how to be informed about golf so that they can participate in conversations; and how to gain the skills so that you can show up for the once-a-year golf outing."
Resources: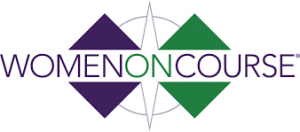 The Women on Course website:
https://www.womenoncourse.com/
Click Here
to watch the Women on Course video