Shownotes
Dave Milne is Executive Director of Special Test Programs for ASE where he is responsible for the development, maintenance, and assembly of several ASE certification tests, as well as a variety of client specific tests.
Dave also serves as the President of the Automotive Training Managers Council (ATMC), a division of the ASE Industry Education Alliance. The council is a network of training managers from both the OEMs and aftermarket who use their collective wisdom to look into the future of how people will learn and then help each other prepare their training for that future.
A 40-year veteran of the automotive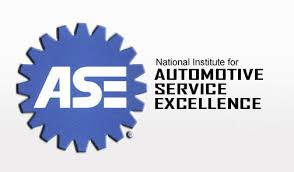 service industry, he has been with ASE 21 years, previously serving as president of Professional Auto Supply, Inc. Dave started his career as an automotive technician in a 4-bay service station.
The episode dives into the data from an ATMC survey completed in the first half of 2017. (see link below)
Talking Points:
ATMC's mission is to improve the quality of training through the collaboration of its members.
Automotive Training Managers Council has been around since 1984, representing automotive and truck

1/3 of members are OE manufacturers
1/3 members are from the aftermarket like Gates, Standard Motor Product and Federal-Mogul Motorparts
1/3 educator's and software developers

ATMC uses the collective knowledge to work on training problems common to all of us.
ASE doesn't get the credit for what they do in the industry.
ASE hears constantly from the industry that students are not being fully prepared, their expectations are too high and they don't have the patience required to develop the experience they need to become a great technician.
ASE also hears from the education side that the industry has a poor image and that there aren't enough intern opportunities.

Educators are saying that too many students (approximately 50%) are not in the industry after five years.

We are doing a poor job of onboarding, challenging and rewarding them.

There is not enough youth joining the industry through the education systems, so the industry must fish in different pools. Subsequently, the industry will be burdened to educate them.
They are laying the foundation to resolve these disconnects.
The new auto tech graduates want to be in service to others and have meaningful jobs. Do not put a new grad into a situation where they are mopping the floor and given meaningless tasks. They will not stick around.
A big challenge is convincing the parents. Convincing them will cost money with a PR campaign.

Vocational instructors are graying out and retiring.
We must train the students and the instructors at the same time.

Some educators become 'frozen in time' at their knowledge level if they don't continue to get a high level of training.
NATEF requirement of 20 hours per year may not necessarily be enough.

ATMC Survey 2017 – was directed at technicians only. 150,000 techs were sent the survey. 3,200 completed the entire survey.

Technician Age:

Almost 70% of working technicians are over the age of 45.
Almost 40% are over the age of 55.

Pay Structure entire industry:

30% of technicians are on a salary
36% of technicians are hourly
26% of technicians are on flat rate

Pay Structure independent side:

38% of technicians are on a salary
30% of technicians are hourly
20% of technicians are on flat rate

Other trends:

Technicians are moving from independents and dealerships to fleets.

Only 1% of fleet techs are flat rate.

Training:

Overall 68% of shop owners are paying for training. The trend is up.

60% of independents
80% of dealerships
70% of fleet

23% of technicians at independent shops are paying for their own training.

Factors in a techs inability to get the necessary training:

75% – Availability of Right Training
50% – Lack of quality training
48% – High cost of training
42% – Inability to take time off

Greatest training needs:

52% – Electrical / Electronic
48% – Hybrid / EV
46% – Advanced Engine Performance
37% – Automatic Transmissions
31% – Engine Performance.

We are going to have to steer the future. We will all feel the pain of the problems.
ATMC is collaborating with the Tech Force Foundation to develop a hands-on experience for middle schoolers. Plans are to take the experience to science museums.

ATMC wants to build a resource of opportunities that exist in the industry.
ATMC Training Benchmark Survey
Be socially involved and in touch with the show:
Facebook   Twitter   Linked In   Email
---
This episode is brought to you by 


Federal-Mogul Motorparts and Garage Gurus. With brands like Moog, Felpro, Wagner Brake, Champion, Sealed Power, FP Diesel and more, they're the parts techs trust.  For serious technical training and support – online, onsite and on-demand – Garage Gurus is everything you need to know. Find out more at fmmotorparts.com  and fmgaragegurus.com