"…I came to America to grow up with a game in which I had complete confidence.  Golf has never failed me."  – Donald J. Ross
Bradford A. Becken, Jr.
President
The Donald Ross Society
Durham, North Carolina
Brad Becken is one of a relatively small group of dedicated amateur golfers who share a common purpose: which is to safeguard the life's work of a man from Scotland named Donald J. Ross…a man whom many consider to be the most importance influence on the game of golf in America.
Serious students of the game, and of golf course architecture in particular, are well aware of the contributions of Donald Ross. But it's fair to say that the average golfer has scant knowledge or appreciation of who Donald Ross was, or his enormous impact on the game.
Hopefully, Brad Becken's interview with Golf Yeah will increase, by some measure, the golfing public's understanding of who the man was, and more specifically, why there is an organization called the Donald Ross Society…for which Brad Becken currently serves as President.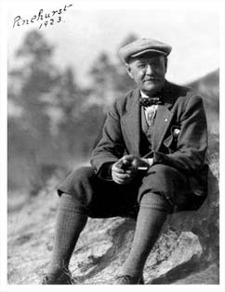 After a distinguished career as an investment banker, working for some of the most respected firms on Wall Street, Brad served as CFO and then President of a Los Angeles-based entertainment company until his retirement in 2005.
Brad will fill in the details regarding his own life's story, and regarding the work of the Donald Ross Society…but I will disclose that his progress through the ranks of the Society has been somewhat impressive. Brad joined the organization in 2012, was elected to the board in 2016, and assumed to role of President in 2018….which suggests to me that Brad has a true calling for the Donald Ross Society…that's been recognized by people who share his passion.
Another measure of Brad's passion: over the past 8 years, he has played on 367 courses designed by Donald Ross.
10 Key Facts You Should Know About Donald J. Ross: 
ONE: Ross was born in 1872 in Dornoch, Scotland to a family of modest means. An accomplished golfer, he was sent to St. Andrews to learn from the most highly recognized golf professional of that era, Old Tom Morris.  Ross returned to Dornoch, where he served as club professional and greenskeeper.
TWO: Ross emigrated to the United States in 1899 to become club professional and greenskeeper at Oakley Country Club in Watertown, Massachusetts. His arrival coincided with growing interest in golf in America, and the need for new courses to accommodate the invention of the Haskell wound golf ball…which traveled further and higher than gutta percha balls.
THREE: Ross redesigned the Oakley course, and met member James Tufts, a successful businessman who convinced him to build a golf course on a piece of land he owned in the sandhills of North Carolina, known as Pinehurst. From then until the remainer of his life, Ross would work in New England during the summers, and in North Carolina in the winters. Ross served as director of golf at the Pinehurst Resort for many years.
FOUR: As his reputation and demand for his course design services grew, Ross remained close to the game as a player. He competed in a number of tournaments, winning the Massachusetts Open, as well as the North and South Open. He also finished well in a number of U.S. Opens.
FIVE: By 1916, Donald J. Ross Associates had been established, and during the first three decades of the 20th century, Ross employed 30 building crews and 2,500 men, who were responsible for the design and construction of more than 380 courses.
SIX: Ross's reputation as an architect was so strong that he solicited projects on only two occasions over the course of his career. One of those projects he won: Seminole Golf Club in Florida. The other project he lost to Alister Mackenzie: Augusta National Golf Club in Georgia…which he considered his greatest disappointment.
SEVEN: Unlike most of his competitors, Ross's hole design did not repeat from course to course. Each course design was original, and took advantage of the existing landscape. His design philosophy was that golf should be a pleasure, not a penance. His courses were intentionally designed to be playable by nearly every level of golfer.
EIGHT: Ross likely foresaw how technology would lengthen the distance that players can carry the ball. Unlike other designers, he built a high degree of difficulty into his greens, with dramatic slopes and subtle contours. His greens continue to make par difficult for even the most skilled players; thus giving course designs to the game of golf that would last for the ages.
NINE: Ross courses have been, and continue to be favorite sites for professional and amateur championships. Over the 20th century, more than 120 USGA Championships have been played on Ross-designed courses.
TEN: Ross died of a heart attack in 1948 at the age of 75. At the time of his death, at least 413 courses had been designed by his firm, in 30 states across the United States, and in Canada, Nova Scotia and Cuba.
Resources: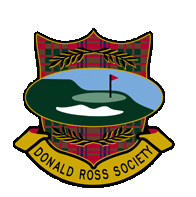 Donald Ross Society website: https://rosssociety.org
"Golf, As It Was Meant To Be Played: A Celebration of Donald Ross's Vision of the Game," by Donald Ross Society Co-Founder, Michael J. Fay
"Golf Has Never Failed Me: The Lost Commentaries of Legendary Golf Architect Donald J. Ross" The only book containing the thoughts of Donald J. Ross
The Tufts Archives (Given Memorial Library): A comprehensive collection of information on Pinehurst and Donald J. Ross
Donald Ross: Discovering the Legend  A documentary film on the life, work and legacy of Donald Ross