This week's guest, Carl Hooker, shares how
to tackle the challenge of creating innovation in the classroom and he provides ideas for both teachers and leaders with new ways to motivate learners of all ages and open up their creative pathways.
In this episode, we discuss:
Enhancing skills beyond technology 

The future of education and online learning

And his book,

Ready.Set.FAIL

! 
About Carl Hooker:
Carl Hooker is an educational consultant and speaker from Austin, TX. He spent the past 24 years as a teacher and administrator building successful blended learning programs for schools. He also serves as an advisor for multiple ed tech companies and is the co-founder of the social media platform K12Leaders.com.
He has written 6 books on mobile learning as well as being a named a National Faculty Member Emeritus for Future Ready Schools out of Washington, D.C. He hosts three podcasts (ISTE's Learning UnLeashed, The UnDisruptED podcast, and the Forward to Different podcast) and his latest book
Ready, Set, FAIL!
is intended for teachers and school leaders looking to unlock creativity and innovation in their schools and classrooms. For full bio go to
https://CarlHooker.com
Follow Carl Hooker:
k12leaders Platform
:
https://k12leaders.com/
https://www.amazon.com/Ready-Set-FAIL-Risk-Taking-Creativity/dp/1990566103?crid=1DM0QFS8QIB8H&keywords=ready+set+fail&qid=1662230952&sprefix=ready+set+fail%2Caps%2C507&sr=8-1&linkCode=ll1&tag=aspirewebsite-20&linkId=b8f9931fbf17190d797cc72130839f58&language=en_US&ref_=as_li_ss_tl
Teach Better Conference:
https://teachbetterconference.com/
Use Code AspireTB2022 for $50 off your two day registration
Teach Better Academy:
https://www.teachbetteracademy.com/
[caption id="attachment_3508" align="alignnone" width="1024"]
Aspire: The Leadership Development Podcast Swag, Joshua Stamper, Teach Better[/caption]
NEW Aspire Swag with Discount Code: ASPIRE
Tee-Shirts and Drinkware:
ASPIRE: The Leadership Development Podcast
This post contains affiliate links.
When you make a purchase through these links, The Aspire Podcast gets a small percentage of the sale at no extra cost to you.
Need a Presenter for a conference or school PD?
Contact Joshua Stamper
for presentations on Restorative Practices, Leadership Development, and Innovative campus systems.
Watch my session on Trauma Informed, restorative and social emotional practices at
www.teachsummit.com/stamper
Follow the Host, Joshua Stamper:
Contact:
https://joshstamper.com/contact/
Twitter:
www.twitter.com/Joshua__Stamper
Instagram:
www.instagram.com/joshua__stamper
Linkedin:
www.linkedin.com/in/joshua-stamper
Facebook:
https://www.facebook.com/AspirePodcast
Subscribe:
https://podcasts.apple.com/us/podcast/aspire-the-leadership-development-podcast/id1384210762?mt=2
Aspire to Lead made it to the Best New Education Books
[caption id="attachment_3718" align="alignnone" width="1024"]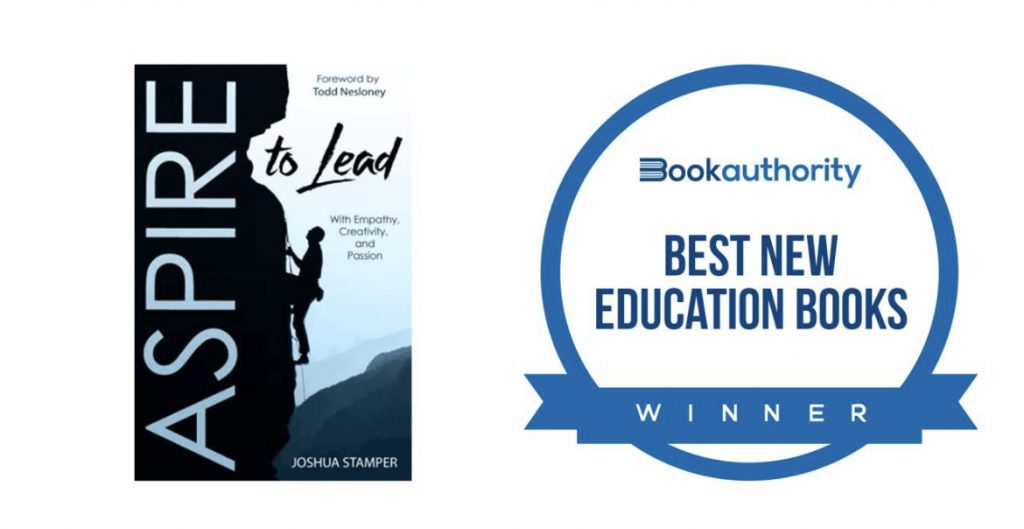 Aspire to Lead, Joshua Stamper, Book Authority Award, Best new book[/caption]
I'm happy to announce that my book, "Aspire to Lead", made it to
BookAuthority's Best New Education Books
.
BookAuthority collects and ranks the best books in the world, and it is a great honor to get this kind of recognition. Thank you for all your support!
The book is available for purchase
on Amazon
.
https://www.amazon.com/gp/product/1953852386/ref=as_li_tl?ie=UTF8&camp=1789&creative=9325&creativeASIN=1953852386&linkCode=as2&tag=aspirewebsite-20&linkId=0d9c336e3db6ab16cbb08421ef3e4175
Review the Podcast
I want to give a huge shout out to those who have taken the time to provide a review on Apple, Spotify or any other podcast platform. It truly means the world to me that you would take the 30- 90 seconds to share how the podcast has positively impacted you or why other educators should check out the show.
[caption id="attachment_3022" align="alignnone" width="1024"]

Teach Better Podcast Network, Aspire: The Leadership Development Podcast[/caption]