Wisdom-Trek / Creating a Legacy
Welcome to Day 290 of our Wisdom-Trek, and thank you for joining me.
This is Guthrie Chamberlain, Your Guide to Wisdom
Principles of Spiritual Growth – Self-Denial
Thank you for joining us for our 7 days a week, 7 minutes of wisdom podcast. This is Day 290 of our trek. Yesterday we hiked on the 10th trail of this trek, which was the Trail of Self. Today we will expand on yesterday's trail, as we hike the Trail of Self-Denial.
There is a total of 18 trails on the trek we call the Principles of Spiritual Growth, which is adapted from a short book written by Miles J. Stanford. These practical lessons were instrumental in my spiritual growth as a young man seeking to create and live my legacy. As we continue on each trail of our overall trek, I trust that you will also find this information valuable in your own life, regardless of where you happen to be on your faith trek. Each of the trails that we hike builds on the previous one, so if you miss any of our Wisdom-Trek, please go to Wisdom-Trek.com to listen to them and read the daily journal.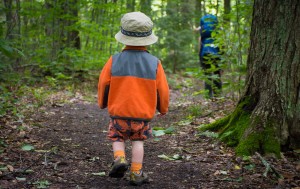 We are recording our podcast from our studio at Home2 in Charlotte, North Carolina. It has been a good week for work progress so far, and we have already completed several tasks that have been in the queue for a while and are making progress on others.
In a somewhat unexpected event, Paula headed to Fort Myers, Florida early Tuesday morning to spend a couple of days with her Aunt Pauline. She is not doing well, and it may be the last time she will be able to visit her. It's a 12-hour drive, so it makes for a long trip to take alone. But, we both agreed that it would be best if I stayed and focused on our workload. Plus, it would be difficult to make arrangements on short notice for Paula's mom who lives with us.
As we move from the Trail of Self, it is time now to hike a parallel trail called the Trail of Self-Denial. One of the most difficult tasks that we have in our lives is to deny ourselves those things which we crave. That could be food, drink, sex, power, or anything else that we struggle to overcome. Self-denial usually will not allow lasting victory through the struggles in our life because it is based on self. We established yesterday that left to ourselves, we will usually choose self over service to others or God. On our hike today, we will focus on why it requires a real change of heart and mind to grow physically, mentally, emotionally, and certainly spiritually.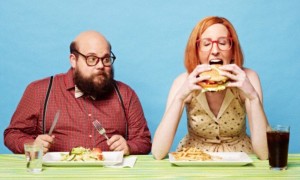 This is the 11th of 18 trails which makes up the trek we call…
Principles of Spiritual Growth – Self-Denial
Remember that I have mentioned several times previously that the word for heart and mind is used interchangeably within God's Word. To keep it simple, I will refer to the mind throughout this hike today.
Until we are willing to change our thinking by what we allow going into our minds about ourselves and our commitment to God, we will continue on the roller coaster of spiritual chaos. Self-denial will never work long-term unless we change the way we think. We change the way we think by what we permit through the filters of our mind. This is why diets rarely work and addicts have such a difficult time breaking free from the chains that bind them. Although you may desire to be free, until and unless you see yourself as being completely free in your mind, you will eventually slip back into your old mindset.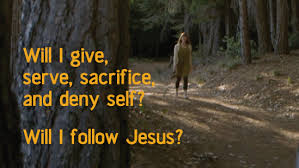 In order to grow spiritually, you have to be convinced in your mind that it all happened at the cross of Christ. Your sins were paid for. Your sinfulness was dealt with. Both by the ultimate act, which is death. As Christ called out as he gave up His life, "It is finished." You have already received the benefits of the work of the cross simply by grasping this truth and believing the finished work of the cross completely in your mind.
So the question is, "How is this applied to our lives?" First, through the Word, we find out what God did about our problem. Second, as we become thoroughly convinced in our minds of the fact then begin to understand it clearly, we are able to agree and understand this truth. Third, as we exercise faith in God's fact, or in other words become fully convinced in our minds, we begin to receive the benefits of that finished work in our experiences of daily life. It was true of our faith in Christ for salvation, and it is true in the matter of our freedom from the slavery of the self-life. Then it no longer becomes denying ourselves but fully comprehending that Christ paid it all.
You may be asking, "How can you have this mindset change?" The Apostle Paul gives us the answer in Romans 12:1-2, "And so, dear brothers and sisters, I plead with you to give your bodies to God because of all he has done for you. Let them be a living and holy sacrifice—the kind he will find acceptable. This is truly the way to worship him.  Don't copy the behavior and customs of this world, but let God transform you into a new person by changing the way you think. Then you will learn to know God's will for you, which is good and pleasing and perfect."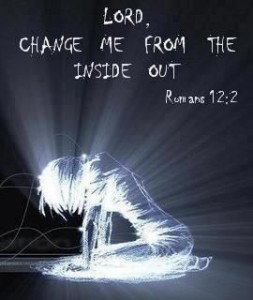 Changing the way you think is such a powerful concept. We do this by filtering out the impurities of this world through God's Word so that what actually is filtered into our minds is pure and right.
An analogy to help us grasp this concept that I think most of us are familiar with is the Brita filter that you may have in a pitcher or faucet in your home. As the water, that may not be completely pure, goes through the filter, it traps all of the impurities and only allows pure water to pass through. In the same way, as we read, study, and meditate on God's Word, it becomes the filter of our minds so that only true and right things pass through. This is best described in Philippians 4:8, "And now, dear brothers and sisters, one final thing. Fix your thoughts on what is true, and honorable, and right, and pure, and lovely, and admirable. Think about things that are excellent and worthy of praise."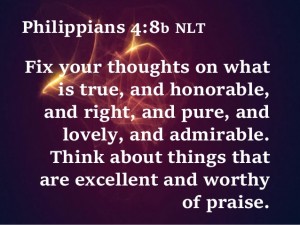 As we learn to fix our minds on the finished work of the cross of Christ, the Holy Spirit will begin to faithfully and effectively apply that finished work of the cross to the self-life. This will allow our self-life to be held in the place of death, resulting in the truth of Galatians 2:20, "It is no longer I who live, but Christ lives in me."
On our trek Principles for Spiritual Growth, today we have explored the truths on the Trail of Self-Denial. We have come to understand that the only way to have lasting spiritual growth is to change the way we think through changing what we allow to pass into our minds. Tomorrow we will begin a new hike on the Trail of The Cross where our entire identity in God is based. Every trail that we hike will help us to create and live our legacy each day. So, encourage your friends and family to join us and then come along tomorrow for another day of our Wisdom-Trek, Creating a Legacy.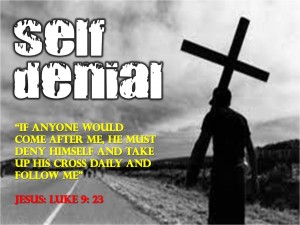 That will finish our podcast for today. As you enjoy your daily dose of wisdom, we ask you to help us grow Wisdom-Trek by sharing with your family and friends through email, Facebook, Twitter, or in person so they can come along with us each day.
Thank you for allowing me to be your guide, mentor, and most of all your friend as I serve you through the Wisdom-Trek podcast and journal each day.
As we take this trek together, let us always:
Live Abundantly (Fully)
Love Unconditionally
Listen Intentionally
Learn Continuously
Lend to others Generously
Lead with Integrity
Leave a Living Legacy Each Day
This is Guthrie Chamberlain reminding you to Keep Moving Forward, Enjoy Your Journey, and Create a Great Day Every Day! See you tomorrow!