Wisdom-Trek / Creating a Legacy
Welcome to Day 1329 of our Wisdom-Trek, and thank you for joining me.
This is Guthrie Chamberlain, Your Guide to Wisdom
What is Biblical Meditation? – Meditation Monday
Wisdom - the final frontier to true knowledge. Welcome to Wisdom-Trek! Where our mission is to create a legacy of wisdom, to seek out discernment and insights, to boldly grow where few have chosen to grow before. Hello, my friend, I am Guthrie Chamberlain, your captain on our journey to increase Wisdom and Create a Living Legacy. Thank you for joining us today as we explore wisdom on our 2nd millennium of podcasts. This is Day 1329 of our Trek, and it is time for Meditation Monday. Taking time to relax, refocus, and reprioritize our lives is crucial in order to create a living legacy. For you, it may just be time alone for quiet reflection. You may utilize structured meditation practices. In my life, meditation includes reading and reflecting on God's Word and in prayer. It is a time to renew my mind, refocus on what is most important, and making sure that I am nurturing my soul, mind, and body. As you come along with me on our trek each Meditation Monday, it is my hope and prayer that you, too, will experience a time for reflection and renewing of your mind.
Although we have invested many months bringing lessons that help us to reflect or meditate on what is important in order to create a living legacy, today, let us consider:
What is Biblical Meditation?
In our western cultures, and probably throughout the world, we tend to associate happiness with money, sex, or power — preferably all three! While each of these is not inherently bad, in fact, they are gifts from God, portions of Scripture, the life of Jesus, and a strange lot of so-called mystics point to another source of happiness — meditation!
As with the other classical spiritual disciplines, meditation cuts against the grain of living in the material world and may seem like a waste of time. But those who are trained in meditation will reap a harvest of happiness — of peace, joy, and love — that will be a blessing to many.
What is meditation? Quite simply, meditation is an intentional act of simplicity. It's not hard to understand why this is seldom practiced. Most of us live scattered lives, pulled in numerous directions by forces of work, family, church, recreation, friends, and so on. In addition, most people — Christians included — are always thinking ... thinking ... thinking.
While thinking is a good, God-given trait, too much of it, or over-thinking, which takes the form of replaying tapes from past conversations, planning tomorrow's activities, or daydreaming about the future — often leads to a complicated and unhappy life. Thus the need for the simple act of meditation!
Meditation is not a panacea to our cultural or personal search for meaning. Meditation is certainly more than a theoretical admonition to simplicity. However, meditation is practical, easy, and, best of all, a means to happiness, a life lived with and for God.
There are numerous things to say about meditation, and Psalm 1:1-3 provides some practical and pertinent counsel for joy, happiness, delight, and prosperity:
Oh, the joys of those who do not
follow the advice of the wicked,
or stand around with sinners,
or join in with mockers.
But they delight in the law of the Lord,
meditating on it day and night.
They are like trees planted along the riverbank,
bearing fruit each season.
Their leaves never wither,
and they prosper in all they do.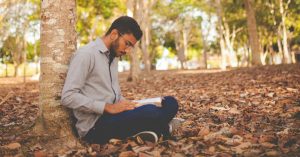 Based on this passage, we would do well if we meditate on the Teachings of God. When it comes to meditation, it is important to remember, "less is more." In other words, you might consider easing into meditation by reading a short narrative from the gospel. When meditating, it is best to read slowly, perhaps pausing after each sentence. Don't be afraid to sit in silence for a few minutes, asking the Lord to help you to absorb it all. Using your imagination to fill out the picture can also be helpful. As an example, in the passage above, we are to be like trees planted along the riverbank. Steady, calm, fulfilling God's purpose for our life on a daily basis.
As a practical exercise of meditating on a Bible passage, I would encourage you to read the story found in Luke 5:1-11 , which is the calling of Jesus's first diciples at the Sea of Galilee. You might ask, "What might Jesus have been teaching the crowds? What might it smelled like, felt like, to be in the water or in the boat with Jesus?" After allowing yourself to enter the story as if you were actually there, by using as many of your senses as possible, many have found it helpful to quietly repeat one of Jesus' sayings — such as his admonition to Peter: "Do not be afraid." As you repeat this phrase and allow each word to seep in, not only can we enter the story but we likely will find ourselves being challenged as well.
The point is, the teachings from Scripture are a treasure-house of material on which to meditate. As we "eat the scroll" as the angel admonished John (Revelation 10:9), the Spirit calms and simplifies our spirit, leading to a real sense of God's presence, a source of joy, the source of true happiness.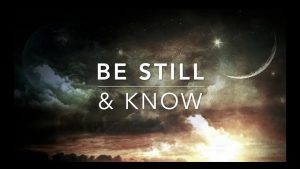 Not only should we meditate alone, but we also need to meditate in community. In our narcissistic culture that encourages us to look out after number 1, we can easily overlook the benefit of community. The reality is, meditating with others — whether with a group at church, with a spouse or a couple of friends — can be one of the richest, unifying experiences we can do. Meditation in community can keep us awake, accountable, and encouraged as we share our "aha moments," questions, and doubts. That's not to say meditating on Scripture can't be done alone; rather, as we meditate and pray with others, the truth of Jesus' promise rings true as we read in Matthew 18:20: "For where two or three gather together as my followers, I am there among them."
The Psalmist knew how fleeting happiness could be. Therefore, not only does he tell us to meditate on Scripture and tells us with whom to meditate, but he also points to the reality that meditation is to be a way of life. "meditating on it day and night." In other words, meditation is much more than getting alone and being quiet each morning and evening in order to read our Bibles — important as that is. Rather, the point seems to be that meditation, like all the spiritual exercises, is about cultivating a lifestyle of awareness to the reality of God in our midst.
That is a wrap for today's meditation, next week, we will continue our trek on Meditation Monday as we take time to reflect on what is most important in creating our living legacy. On tomorrow's trek, we will explore another wisdom quote. This 3-minute wisdom supplement will assist you in becoming healthy, wealthy, and wise each day. Thank you for joining me on this trek called life. Encourage your friends and family to join us and then come along tomorrow for another day of 'Wisdom-Trek, Creating a Legacy.'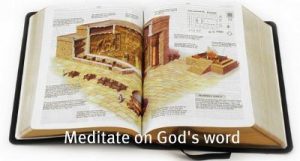 If you would like to listen to any of the past 1328 daily treks or read the daily journal, they are available at Wisdom-Trek.com. I encourage you to subscribe to Wisdom-Trek on your favorite podcast player, so each day will be downloaded to you automatically.
Thank you for allowing me to be your guide, mentor, and most importantly, I am your friend as I serve you through this Wisdom-Trek podcast and journal.
As we take this Trek of life together, let us always:
Live Abundantly (Fully)
Love Unconditionally
Listen Intentionally
Learn Continuously
Lend to others Generously
Lead with Integrity
Leave a Living Legacy Each Day
I am Guthrie Chamberlain….reminding you to 'Keep Moving Forward,' 'Enjoy your Journey,' and 'Create a Great Day…Everyday'! See you tomorrow!