Wisdom-Trek / Creating a Legacy
Welcome to Day 596 of our Wisdom-Trek, and thank you for joining me.
I am Guthrie Chamberlain, Your Guide to Wisdom
A Father's Plea – Proverbs 7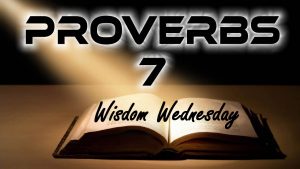 Hello, my friend, and welcome to Wisdom-Trek! I am Guthrie Chamberlain, your Guide to Wisdom and Creating a Living Legacy. Thank you for joining us for our 5 days per week wisdom and legacy building podcast. Today is Day 596 of our trek, and it is Wisdom Wednesday. Every Wednesday along life's trails, we dig for the nuggets of wisdom that are found within the book of Proverbs. Today we will explore Proverbs 7 from The Voice Translation, which will give us a fresh perspective on this book of timeless wisdom.
We are broadcasting from our studio at The Big House in Marietta, Ohio. Spring is now in full swing with its showers, flowers, trees nearly full of leaves, and temperatures moderating to a pleasant range. It seems like each new day brings new life. The red-shouldered hawks that have their nest outside our 2nd story office windows are busy all day bringing fresh food back to their newly born chicks.
Just as spring is a flurry of activities with changes that are evident on a daily basis, so are our lives changing to a "new normal." As mentioned during a couple of daily treks last week, Hazel our 2.5-year-old granddaughter has been diagnosed with leukemia. In addition to the emotionally difficult trek that this news has brought to our lives, we also take on additional responsibilities and tasks to assist during this long trail that is now before us. We are assisting with the transport of Hazel's two older brothers to school and back on most days. We have also adopted two of Nat & Elizabeth's dogs so that they can focus on Hazel's treatment and ultimate recovery.
Hazel is responding well to the chemo treatments, and the physicians are pleased with the early results. For the next 2-3 months, Hazel will have weekly chemo treatments in Columbus on Monday's and also have blood drawn locally on Wednesday and Friday's to monitor the results. After this stage, the treatments fall back to monthly for the duration of about two years. As Hazel's father Nat expressed in this week's blog, we are humbled and grateful for the outpouring of help and resources that are being provided as Hazel's tribe of prayer warriors and supporters grow each day around the world. We would ask you to pray for Hazel and her family, and also for us as grandparents that we would have the wisdom, insight, and understanding to make prudent choices and are able to help wherever it is needed.
As we explore Proverbs 7 today, we see a passionate plea from King Solomon to his son that he may obtain wisdom…
A Father's Plea
· 10th Speech from Father to Son
This is the tenth and final speech the father delivers to his son, and it's the most passionate of them all. The father is on his hands and knees begging his son to live by wisdom (and escape the snare of the adulteress) no matter the effort required. Look at the action words used in verses 1-5. All of these require extreme energy and devotion: "guard," "treasure," "bind," "meditate," "engrave," "say," "recognize."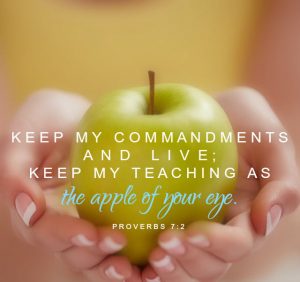 We don't typically find narratives in the Book of Proverbs, but in verses 6-20 the father uses a story to drive home his point. He tells his son a dark tale of a naïve young man who gets sucked into the clutches of the adulteress. The woman's speech (verses 14-20) drips with allurement as she "grabs him shamelessly." She makes promises of a "perfumed bed" and "colored linens." The youngster lets the adulteress inflate his ego, he lets his guard down, and in verse 22 he gives in to her seduction. The father likens him to a bull, a deer, and a bird, as these are three animals subject to complete domination.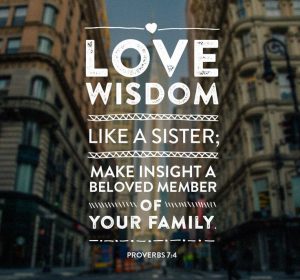 This intense narrative stops abruptly at verse 23, as the father turns to all his sons and makes this final plea (24-27), "Listen to me and pay attention," he says, "Avoid that woman!"The house of the adulteress is a tomb in disguise, or as he puts it, it is "a gateway to the grave, leading down to death's dark chamber."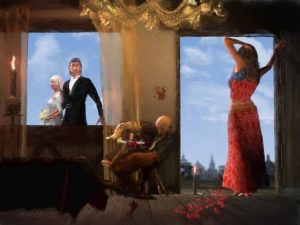 This story is intended to speak to more than just our intellect; it also calls upon our imagination and echoes in our heart. The father seeks to make a lasting impact. Pay attention to its overall effect on you.
Listen up now and pay attention as I share with you Proverbs Chapter 7.
1 My son, live according to what I am telling you;
guard my instructions as you would a treasure deep within you.
2 Stay true to my directives, and they will serve you well;
make my teachings the lens through which you see life.
3 Bind cords around your fingers to remind you of them;
meditate on them, and you'll engrave them upon your heart.
4 Say to Lady Wisdom, "My sister";
recognize that understanding is your best friend,
5 And they will keep you from the arms of another woman—
protect you from the enchantress who entices men into her bed.
6 One day I was at the window of my house,
looking out through my lattice shutters,
7 And there among the usual crowd of the gullible people
I spotted a naive young man.
8 He was going down the street near the corner where she lived—that mysterious and evil woman—
taking the road that led directly to her house.
9 At the end of the day, as night approached
and darkness crept in,
10 I saw her! A woman came out to meet him.
She was dressed for temptation and devious with her affections.
11 Here's what I know about her: she is loud and obnoxious, a rebel against what is proper and decent.
She's always on the move—anxious to get out of the house and
12 Down the street; at times in the open,
at others lurking around every corner.
13 As I am watching them, she grabs him and kisses him,
then shamelessly tells him:
14  It was my turn to offer a peace offering,
and today I paid my vows,
15 So now I come to see you.
I really want to be with you, and what luck! I have found you!
16 You'll be impressed. I have decorated my couch,
laid colorful Egyptian linens over where we will be together,
17 And perfumed the bed with exotic oils and herbs:
myrrh, aloes, and cinnamon.
18 Come in, and we will feast on love until sunrise;
we will delight ourselves in our affections.
19 You don't need to worry; my husband is long gone by now,
away from home on a distant journey.
20 He took a bag of money with him,
so I don't expect him home until next month.
21 It worked! She enticed him with seductive words,
seduced him with her smooth talk.
22 Right away he followed her home.
He followed her like a bull being led to the slaughter,
Like a deer caught in a trap
23     (that is, until an arrow punctures his liver),
Like a bird flying straight into a net.
He had no clue his life was at stake; everything was about to change.
24 This is why it is so important that you listen to me, my sons,
and pay attention to all I am telling you.
25 Do not let your mind wonder about her ways;
do not lose yourself and drift down her path,
26 For she's claimed one life after another,
victim after victim, too many to count.
27 Her house is the gateway to the grave;
every step toward her is a step toward death's dark chamber.
 That will conclude our exploration of Proverbs 7. Oh, how the mighty, and I might add naïve man and woman have fallen when making unwise relationship choices. Next week we will continue with Chapter 8, and each week we will explore a full chapter in Proverbs. I hope that you will join us each week so that you can gain wisdom, insight, and understanding for yourself.
All of the Proverbs provide us with rich wisdom, insight, and understanding on a myriad of life issues. Regardless of where you are in your faith walk, if the precepts in Proverbs are followed, your life will be rich and satisfying. I encourage you to take them and plant the seeds of wisdom in your heart so that you will reap a harvest of wisdom throughout your life.
Tomorrow we will hike another short trail of Wisdom Unplugged where we will discover an inspirational wisdom quote. So encourage your friends and family to join us, and then come along with us tomorrow for another day of our Wisdom-Trek, Creating a Legacy.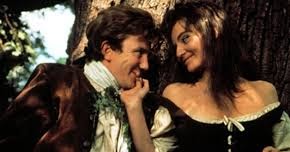 That will finish our trek for today. If you would like to listen to any of the past daily treks or read the daily journal, they are available at Wisdom-Trek.com. You can also subscribe on iTunes and Google Play so that each day's trek will be downloaded automatically.
Thank you for allowing me to be your guide, mentor, and most of all your friend as I serve you through the Wisdom-Trek podcast and journal.
As we take this trek of life together, let us always:
Live Abundantly (Fully)
Love Unconditionally
Listen Intentionally
Learn Continuously
Lend to others Generously
Lead with Integrity
Leave a Living Legacy Each Day
This is Guthrie Chamberlain reminding you to Keep Moving Forward, Enjoy Your Journey, and Create a Great Day Every Day! See you tomorrow!