This week's guest, Kyle Hill, shares how his role as a Special Education Lead and parent has uncovered a huge gap in the communication and relationship between the school, parents, and the student. Kyle provides wonderful advice and resources to help all parties succeed in creating an effective plan for our struggling students.
In this episode, we discuss:
Strategies to help students with their classroom behavior
Resources for parents to assist their special education meetings
And his podcast, Xhausted Educators!
About Kyle Hill:
School was a struggle for Kyle Hill.  In fact, as someone with undiagnosed ADHD, school was more of a chore than an opportunity.  Due to his own experiences with academic and behavior challenges, Kyle decided to become an elementary, special education teacher to support students with their own unique needs.  He served in this role for 19 years in both co-taught general education classrooms and self contained special education classrooms.  Since then, he has become a district-wide resource lead, specializing in intervention programs, mentoring programs, transition services, and instructional or behavioral support coaching, all in an attempt to assist educators from Pre-K to 12th grade.  His ultimate goal is to provide support and guidance for those who help students who struggle in some capacity. Kyle's most important job and passion though, is being a father of 3 children who have their own unique challenges.  Through learning how to support his own children, both he and his wife have learned the importance of working with outside organizations in order to help children and their families.  He packages both of his passions into one organization as the founder of the
RechargED Family
.  This allows Kyle to provide free content and resources for parents and educators who want to find ways to support kids.  Whether it be through his podcasts like the Xhausted Educators show, the Parents RechargED show or the
RechargED Family
YouTube channel, Kyle aims to provide content for others so that children and teens get the support that they deserve.  Also a part of the RechargED Family organization is
Holding On To Learning LLC
.   As the owner, he works with individual families to answer any education or outside service related questions and provide them with resources to help their child who may be struggling in some capacity. You can connect with Kyle on Instagram and Twitter @rechargedfamily or by visiting
https://www.rechargedfamily.com/
Follow Kyle Hill:
Teach Better Conference:
https://teachbetterconference.com/
Use Code AspireTB2022 for $50 off your two day registration [caption id="attachment_3508" align="alignnone" width="1024"]
Aspire: The Leadership Development Podcast Swag, Joshua Stamper, Teach Better[/caption]
NEW Aspire Swag with Discount Code: ASPIRE
Tee-Shirts and Drinkware:
ASPIRE: The Leadership Development Podcast
This post contains affiliate links.
When you make a purchase through these links, The Aspire Podcast gets a small percentage of the sale at no extra cost to you.
Need a Presenter for a conference or school PD?
Contact Joshua Stamper
 for presentations on Restorative Practices, Leadership Development, and Innovative campus systems. Watch my session on Trauma Informed, restorative and social emotional practices at
www.teachsummit.com/stamper
Follow the Host, Joshua Stamper:
Contact:
https://joshstamper.com/contact/
Twitter:
www.twitter.com/Joshua__Stamper
Instagram:
www.instagram.com/joshua__stamper
Linkedin:
www.linkedin.com/in/joshua-stamper
Facebook:
https://www.facebook.com/AspirePodcast
Subscribe:
https://podcasts.apple.com/us/podcast/aspire-the-leadership-development-podcast/id1384210762?mt=2
Aspire to Lead made it to the Best New Education Books
[caption id="attachment_3718" align="alignnone" width="1024"]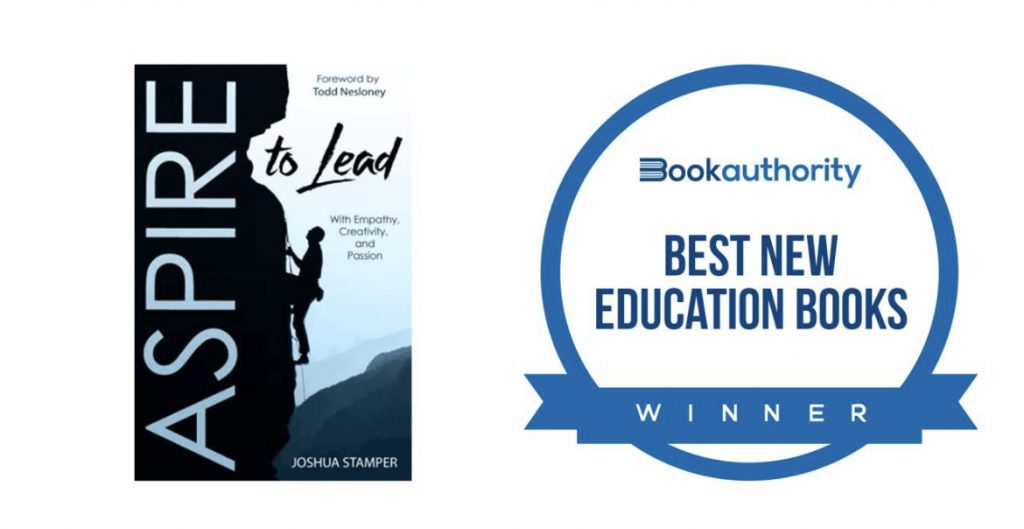 Aspire to Lead, Joshua Stamper, Book Authority Award, Best new book[/caption] I'm happy to announce that my book, "Aspire to Lead", made it to
BookAuthority's Best New Education Books
. BookAuthority collects and ranks the best books in the world, and it is a great honor to get this kind of recognition. Thank you for all your support! The book is available for purchase
on Amazon
. https://www.amazon.com/gp/product/1953852386/ref=as_li_tl?ie=UTF8&camp=1789&creative=9325&creativeASIN=1953852386&linkCode=as2&tag=aspirewebsite-20&linkId=0d9c336e3db6ab16cbb08421ef3e4175
Review the Podcast
I want to give a huge shout out to those who have taken the time to provide a review on Apple, Spotify or any other podcast platform. It truly means the world to me that you would take the 30- 90 seconds to share how the podcast has positively impacted you or why other educators should check out the show.