Wisdom-Trek / Creating a Legacy
Welcome to Day 220 of our Wisdom-Trek, and thank you for joining me.
This is Guthrie Chamberlain, Your Guide to Wisdom
Your Life Plan – An Introduction
Thank you for joining us for our 7 days a week, 7 minutes of wisdom podcast. This is Day 220 of our Trek. We invested the first five days of 2016 on our trek up Transformation Mountain where we explored the trails of trust, thankfulness, truth, timing, travail, the Tempter, and being teachable. As we hiked these trails, we learned that in order to enjoy the rich and satisfying life that we desire we must change the way we think in each of these areas. It is my hope that what we learned was beneficial as we start this new year.
Beginning today, we will link this changed mindset to learn how to create your life plan so that 2016 will be your best year ever, and that plan will continue for years to come. If you miss any of our Wisdom-Trek episodes, please go to Wisdom-Trek.com to listen to them and read the daily journal.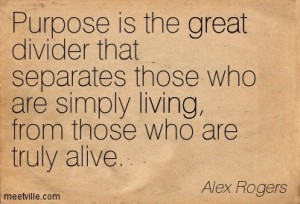 We are recording our podcast from our studio at Home2 in Charlotte, North Carolina. We continue to work on our life planning to determine the direction and action steps needed to build additional features into Wisdom-Trek and also build the structure for Christian Podcasting Network. It is crucial that we take our time to ensure solid plans for growth. Life is a trek, not a sprint. It is very important that we are able to dovetail these new plans into our current client workload, other business projects, and renovation plans for The Big House. We want to make sure that we properly balance all areas of our lives so that we can truly enjoy the journey.
Today we are beginning a new Trek as we explore why it is so crucial for us to create a life plan. We will learn why it is important and then how to create, follow through, and complete this plan based on predefined milestones and timelines, which we will call our blueprint. So our new Trek is called…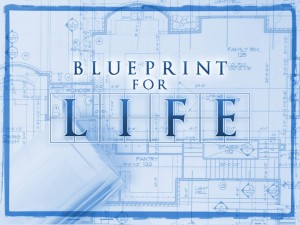 Your Life Plan Blueprint
If you desire to achieve success and to create/build a living legacy, you must create a life plan with a means of measuring progress along the trails of life. It does not matter what your age is or what your current economic status is in life. It is never too late to begin.
This trek will be a lengthy one as we will first explore the 6 important reasons why we should create a life plan, and then we will travel through the trails of a detailed 5-Step life plan blueprint. Since I purposely keep the Wisdom-Trek episodes to between 7-9 minutes a day, we will break this life planning into small digestible nuggets of wisdom. When we complete the entire Trek, I will merge the entire plan into a separate PDF document that you can download for review.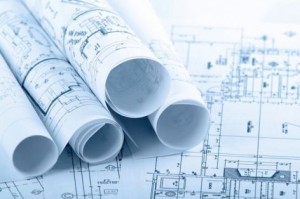 Before we begin the trails of laying out your actual life plan, I want to make sure that you understand why it is important. Creating and following your life plan is one of the most important events in life because it can change your course for the remainder of your life.
While I fully understand, that God will ultimately give us direction for our lives, He is also very concerned that we live our lives with purpose, on purpose. God addresses the issue of planning over 100 times in His Word. If we design our plans according to the principles and precepts in His Word, then we can rely on the wisdom in Proverbs 16:3, "Commit your actions to the Lord,  and your plans will succeed."
If we do our part in the planning process, God will see that our plans are successful. Jeremiah 29:11 reminds us, "'For I know the plans I have for you,' says the Lord. 'They are plans for good and not for disaster, to give you a future and a hope.'"
If we remember to give God the glory, He has much more planned for us than we can even imagine, so plan large. Ephesians 3:20 says, "Now all glory to God, who is able, through his mighty power at work within us, to accomplish infinitely more than we might ask or think."
Introduction
Let us set the stage for our life plan blueprint with our introduction for today. On our Trek, think about today as an overview of the trails that we will be hiking. Over the next few days, we will explore the six important reasons for creating a life plan.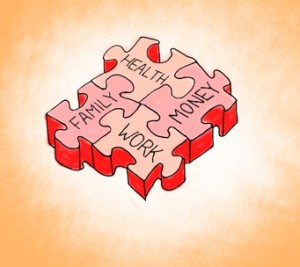 I would first like to present three quotes that sum up the importance of life planning.
Author Bill Copeland put it this way, "The trouble with not having a goal is that you can spend your life running up and down the field and never score." 
One of my virtual mentors, Zig Ziglar, makes a very good point in this quote, "You need a plan to build a house. To build a life, it is even more important to have a plan."  Think about this, you would never try to build a house without a detailed blueprint, and yet most people go through life with no plan at all.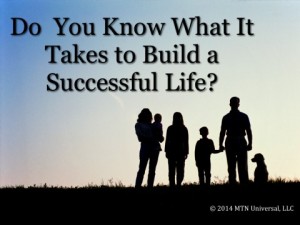 Another one of my virtual mentors, Jim Rohn, said it well, "If you don't design your own life plan, chances are you'll fall into someone else's plan. And guess what they have planned for you? Not much." 
So let me ask a few questions…
Do you set goals or plans for yourself? What is your life plan for the next 12 months? How about 3 years from now? 5 years? 10 years? What are your aspirations that you look toward coming true? Anything?
Thomas Carlyle is quoted as saying, "A man without a goal is like a ship without a rudder."  If you know anything about boats, you will not be able to go where you intended without a rudder.  In life, you will not be able to go where you desire without a plan.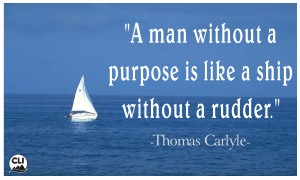 Goal setting is the first step toward successful life planning. It marks your first point toward success. It is what puts your life into real action mode. Without this step, the other steps of life planning cannot take place.
Have you ever encountered people who have a passive approach toward life? They don't set any goals or have any plans. They just live life on a meandering, day-to-day basis. You see them 1 year, 3 years, 5 years from now, and their lives are largely the same, save for a few changes that are really more the result of others' actions and desires rather than their own.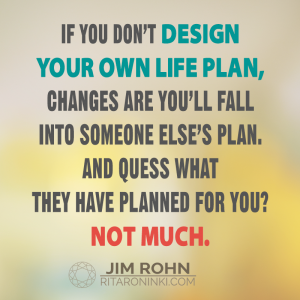 During the past 11 days, we discovered why we should be living a life with purpose, on purpose. We studied some points on how to create a living legacy. And we explored why we need to adopt the 7 thought patterns for a rich and satisfying life. Today we are preparing our Trek to create a life plan blueprint, or we might want to consider it our map if we want to tie it to our hiking analogy. We have reviewed some guidelines and explored why a life plan is crucial in order to create a living legacy. All of these factors are inter-connected and must be part of our lives. Tomorrow we will begin to explore the 6 important reasons to create a life plan blueprint. So encourage your friends and family to join us and then come along tomorrow for another day of our Wisdom-Trek, Creating a Legacy.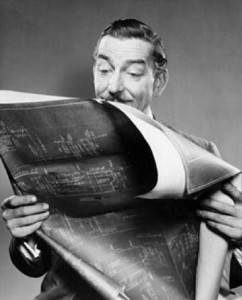 That will finish our podcast for today. Remember to listen to your daily dose of wisdom each day. Please share Wisdom-Trek with your family and friends through email, Facebook, Twitter, or in person so they can come along with us each day.
Thank you for allowing me to be your guide, mentor, and most of all your friend as I serve you through this Wisdom-Trek podcast and journal each day.
As we take this Trek together, let us always:
Live Abundantly (Fully)
Love Unconditionally
Listen Intentionally
Learn Continuously
Lend to others Generously
Lead with Integrity
Leave a Living Legacy Each Day
This is Guthrie Chamberlain reminding you to Keep Moving Forward, Enjoy Your Journey, and Create a Great Day Every Day! See you tomorrow!