Wisdom-Trek / Creating a Legacy
Welcome to Day 1298 of our Wisdom-Trek, and thank you for joining me.
This is Guthrie Chamberlain, Your Guide to Wisdom
Life Happens Fast – Ask Gramps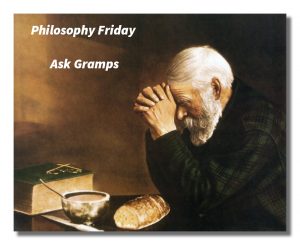 Wisdom - the final frontier to true knowledge. Welcome to Wisdom-Trek where our mission is to create a legacy of wisdom, to seek out discernment and insights, and to boldly grow where few have chosen to grow before.
Hello, my friend, I am Guthrie Chamberlain, your captain on our journey to increase wisdom and create a living legacy. Thank you for joining us today as we explore wisdom on our 2nd millennium of podcasts. This is Day 1298 of our trek, and it is time for our Philosophy Friday series. Each Friday, we ponder some of the basic truths and mysteries of life and how they can impact us in creating our living legacy. As we continue on this trek called life, sometimes we have questions about life, so our Friday trek is a time when we can "Ask Gramps." Gramps will answer questions that you would like to ask your dad or granddad, but for whatever reason, you are unable to. No matter how old we are, I know that all of us would like the opportunity to ask Dad or Gramps questions about life in many areas.
We may mix it up a bit on our Friday episodes, but we will strive to keep them down to earth and enjoyable. If you have any questions that you would like to ask Gramps, please email them to guthrie@wisdom-trek.com.
So the question for this week is…
"Hey Gramps, life just seems to slip by faster each year. I want to live a life of purpose, but most of the time, it seems like I am just racing from one event onto another, with little time to breathe, let alone reflect on what is most important. What wise tips can you give me to help slow down and live a full life, not a fast life?"
Life Happens Fast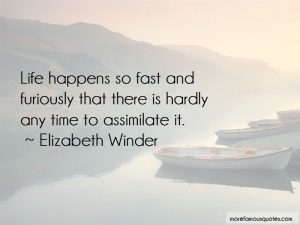 I am not sure that I am the best qualified to answer this, but I doubt that few of us have the speed of life under as much control as we should. We hear the admonition to stop and smell the roses, or the coffee, but few of us really do. I love to smell both roses and coffee, but I have to ask myself, do I invest enough time doing so?
We all need to learn to watch more closely, to pay attention, to slow down, and to invest our time wisely. For most of us, life comes at us full force from our first breath and does not slow down until our last. We think in our minds, "There is no time to waste." It is time we consider and practice the art of investing our time so that it daily reaps rewards that are eternal. That can't happen when life is a blur.
Yes, scripture informs us that life is short, but we will make it shorter if we do not invest time properly. It is eternal kingdom work that we need to focus on as James 4:14-15 says, "How do you know what your life will be like tomorrow? Your life is like the morning fog—it's here a little while, then it's gone. What you ought to say is, 'If the Lord wants us to, we will live and do this or that.'"
Since we do not know how our lives will impact eternity, we must invest our lives carefully with wisdom as Ephesians 5:15-16 reminds, "So be careful how you live. Don't live like fools, but like those who are wise. Make the most of every opportunity in these evil days."
When we live life on a treadmill or hamster wheel running ever faster but getting nowhere, we lose our joy and purpose for living and will have little impact on eternity. The evil one is a joy robber. John 10:10 tells us, "The thief's purpose is to steal and kill and destroy. My purpose is to give them a rich and satisfying life." Jesus cares little for how fast we rush through life, but instead, he wants our lives to be rich and satisfying. Lives that are abundant and overflowing into the lives of others.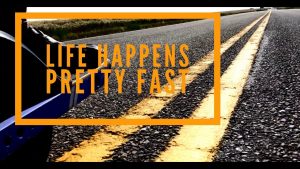 How many reminders do we need for us to get the message? "Life happens fast!" Pull out your box of photos, or photo album, or pull up your photos on your computer or phone, and you will be amazed how quickly life has happened. "Where did our little girl go?" "How did he grow up so fast?" "Wow! He looks old now!"
Fill your mind with the poison of modern media, and it will make life seem so futile. Another horrific earthquake, tornado, or hurricane where lives were lost and property was destroyed in seconds. A plane goes down. An automobile pile-up on the Interstate. Shooting in the city, school, or even church. A heart attack took the life of a young husband and father, or cancer snuffs out the life of a young mother or child. God does not want us to live rushing through life just so we can die.
"Life does happen fast!" It comes so quickly that about the time we get comfortable in one phase of life, we move into a different phase. We start feeling good being single, and suddenly we are talking marriage. Then, we work and work at being the best husband or the best wife, and then here come children. We feel like we get the parenting thing figured out, then we are empty nesters and before long, we are grandparents, like I am now. With life coming (and going) so quickly, how do we manage it? Here are a few things to remember to help each of us to live in a rich and satisfying manner as we navigate from one life season to another. We don't have to miss any season, and we can enjoy each.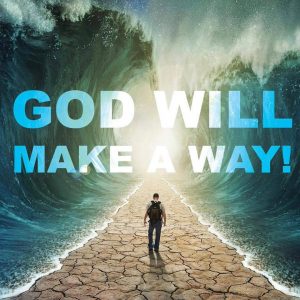 Live in today, not tomorrow, or yesterday. If you spend too much time looking ahead or behind, you will miss what is happening in the present. Jesus said in Matthew 6:34, "So don't worry about tomorrow, for tomorrow will bring its own worries. Today's trouble is enough for today."
Paul said in Phillippians 3:12-14, "I don't mean to say that I have already achieved these things or that I have already reached perfection. But I press on to possess that perfection for which Christ Jesus first possessed me. No, dear brothers and sisters, I have not achieved it, but I focus on this one thing: Forgetting the past and looking forward to what lies ahead, I press on to reach the end of the race and receive the heavenly prize for which God, through Christ Jesus, is calling us."
So as Gramps who has lived 63 years so far, I am encouraging you to slow down. Try to eliminate hurry from your life. If you have small children, try not to say, "Hurry up!" too many times. When you get on the freeway, drive the speed limit; it's a lot less stressful. When you are walking, if you see something worth looking at, stop and look at it. Remind yourself that you have all the time you need to do what God wants you to do.
Enjoy the moment. When you work, work hard. When you rest, rest. When you are with friends, shut your phone off and be with your friends. When you are with your spouse, really be with him or her. When you are with your children, be with them.
"Life happens fast!" Yet it does not have to overwhelm us. We do not have to miss it. We can enjoy it. God has given us a life that is to be rich and satisfying. We have the tools to live it at His pace and in His time and like He wants us to.
This year and beyond, I hope you can receive the life God has planned for you and enjoy it to the fullest and not just at its fastest!
That is a wrap for today's question. Join us again next Friday for another question on our "Ask Gramps" episode. Our next trek is Mediation Monday, where we will help you reflect on what is most important in life. So encourage your friends and family to join us and then come along on Monday for another day of our Wisdom-Trek, Creating a Legacy.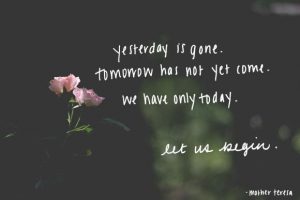 If you would like to listen to any of the past 1297 daily treks or read the associated journals, they are all available at Wisdom-Trek.com. I encourage you to subscribe to Wisdom-Trek on your favorite podcast player, so each day will be downloaded to you automatically.
Thank you for allowing me to be your guide, mentor, and, most of all, your friend as I serve you through the Wisdom-Trek podcast and journal.
As we take this trek together, let us always:
Live Abundantly (Fully)
Love Unconditionally
Listen Intentionally
Learn Continuously
Lend to others Generously
Lead with Integrity
Leave a Living Legacy Each Day
I am Guthrie Chamberlain reminding you to Keep Moving Forward, Enjoy Your Journey, and Create a Great Day Everyday! See you on Monday!