This week's guest, Dr. Marcus Belin, shares how a difficult start to his role as a Principal allowed him to appreciate, learn, and not regret the hard lessons of his leadership experience.   
In this episode, we discuss:
Setting Fire to the "Comfort Box"

Showing Vulnerability and Transparency to your Staff

And his podcast,

Unapologetic Leadership
About Dr. Marcus Belin:
Born and raised on the Southside of Chicago, Dr. Belin learned the value of education at a very young age. That belief has carried him into my career as an educator and my commitment to making an indelible mark on the lives of my students and colleagues. 
He attended Bradley University, where he received his bachelor's in elementary education followed by a master's in education administration. He completed his doctorate at National Louis University in July 2020.
His career as a 5th- and 6th-grade social studies teacher at Quest Charter Academy, a brand new charter school that was opening its doors in Peoria.  He then became the Dean of Students at the newly opened Quest Charter Academy High School, and after two years was named the school's assistant principal. As a young administrator, he had the opportunity to help build the culture and structure of a new high school. 
Just a few years later he became the assistant principal at Dunlap High School. With much to learn, he quickly became connected to the community and focused his work on creating opportunities for students at Dunlap. Working as part of an administrative team of exceptional leaders, his efforts were focused on building a culture of opportunity, including the formation of an alternative education program for students who were credit-deficient.
In 2018, he became principal at Huntley High School, a large and forward-thinking high school in the far northwest suburbs of Chicago that has built a national reputation as a leader in revolutionizing how students learn. This role has been the biggest and most rewarding experience in his education career so far. His goal is to create and maintain a learning environment that is full of opportunity for all students, an equitable and supportive community, and a place where every student knows they are loved and cared about. 
While climbing the ranks of administration. He currently serves as the first black President-elect of the Illinois Principals Association. He has dedicated time to IPA by serving the Central Illinois Valley Region of IPA as a board member,  the membership chair of the Kishwaukee Region, and as Legislative Chair on the State Board. In 2014, he was named one of Peoria's 40 Leaders Under 40. In 2020, awarded Illinois Principals Association Kishwaukee Region Principal of The Year award. Belin became a member of Alpha Phi Alpha Fraternity, Inc. during his time at Bradley. 
Dr. Belin has a beautiful wife who is an awesome educator who loves kids and has a passion to help develop her fellow educators. The Belin team consists of three beautiful children, Maliyah, Makenzie, Mekhi.  
Belin's drive and passion as a servant leader guide his commitment to the work as an educator and school leader. His ultimate goal is to serve as the United States Secretary of Education. 
Follow Dr. Marcus Belin:
https://www.amazon.com/Because-Teacher-II-Stories-Teaching/dp/194833450X?crid=11HDG9LWOYNFQ&keywords=george+couros&qid=1660410034&sprefix=george+couros%2Caps%2C107&sr=8-3&linkCode=ll1&tag=aspirewebsite-20&linkId=39de2166dd2458fdc02944028e4fae43&language=en_US&ref_=as_li_ss_tl [caption id="attachment_3508" align="alignnone" width="1024"]
Aspire: The Leadership Development Podcast Swag, Joshua Stamper, Teach Better[/caption]
NEW Aspire Swag with Discount Code: ASPIRE
Tee-Shirts and Drinkware:
ASPIRE: The Leadership Development Podcast
This post contains affiliate links.
When you make a purchase through these links, The Aspire Podcast gets a small percentage of the sale at no extra cost to you.
Need a Presenter for a conference or school PD?
Contact Joshua Stamper
for presentations on Restorative Practices, Leadership Development, and Innovative campus systems.
Watch my session on Trauma Informed, restorative and social emotional practices at
www.teachsummit.com/stamper
Follow the Host, Joshua Stamper:
Contact:
https://joshstamper.com/contact/
Twitter:
www.twitter.com/Joshua__Stamper
Instagram:
www.instagram.com/joshua__stamper
Linkedin:
www.linkedin.com/in/joshua-stamper
Facebook:
https://www.facebook.com/AspirePodcast
Subscribe:
https://podcasts.apple.com/us/podcast/aspire-the-leadership-development-podcast/id1384210762?mt=2
Aspire to Lead made it to the Best New Education Books
[caption id="attachment_3718" align="alignnone" width="1024"]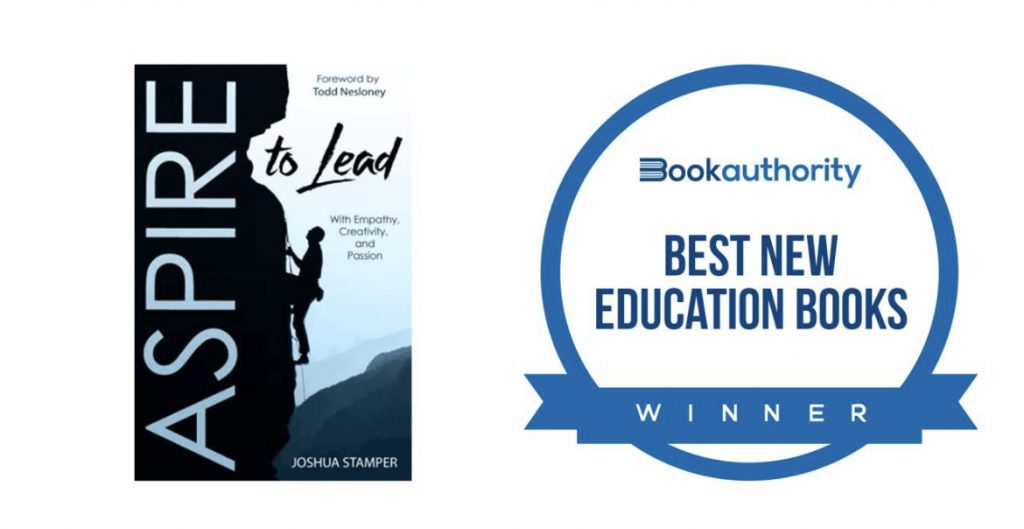 Aspire to Lead, Joshua Stamper, Book Authority Award, Best new book[/caption]
I'm happy to announce that my book, "Aspire to Lead", made it to
BookAuthority's Best New Education Books
.
BookAuthority collects and ranks the best books in the world, and it is a great honor to get this kind of recognition. Thank you for all your support!
The book is available for purchase
on Amazon
.
https://www.amazon.com/gp/product/1953852386/ref=as_li_tl?ie=UTF8&camp=1789&creative=9325&creativeASIN=1953852386&linkCode=as2&tag=aspirewebsite-20&linkId=0d9c336e3db6ab16cbb08421ef3e4175
Review the Podcast
I want to give a huge shout out to those who have taken the time to provide a review on Apple, Spotify or any other podcast platform. It truly means the world to me that you would take the 30- 90 seconds to share how the podcast has positively impacted you or why other educators should check out the show.
[caption id="attachment_3022" align="alignnone" width="1024"]

Teach Better Podcast Network, Aspire: The Leadership Development Podcast[/caption]