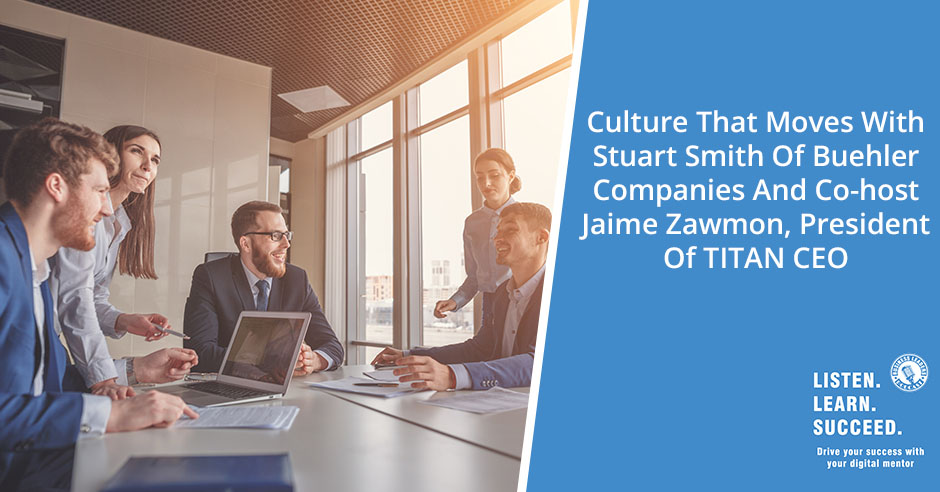 Cashflow may be the number one most important thing in any business, but company culture comes in a close second. It is what Stuart Smith strives to build everyday as the CEO of Buehler Companies, a top-rated moving company that does everything from commercial moving to Girl Scout cookie distribution. Leading with humility and a strong commitment to company culture, Stuart definitely deserves a place at the Titan 100. Listen in as he shares his take on company culture and humility-driven leadership in this conversation with Bob Roark and co-host, Jaime Zawmon, the President of TITAN CEO.
---
Watch the episode here:
[embed]https://youtu.be/SzrZgiPL9f8[/embed]
Culture That Moves With Stuart Smith Of Buehler Companies And Co-host Jaime Zawmon, President Of TITAN CEO
We have Jaime Zawmon, the Founder and President of Titan CEO. Our guest is Stuart Smith, the CEO of Buehler Companies. Welcome, Jaime and Stuart.
Thank you.
We're going to jump straight into it. Stuart, if you would tell us about your business and who you serve.
The name of my company is Buehler Moving and Storage and we're an agent for Mayflower Van Lines. We also have Alliance Relocation, which is an agent for United Van Lines. A couple of years ago, we bought Student Movers and that's our local moving company. We bought that because people had the perception that we were the big trucks. They skipped over for small little moves, and in essence, we do all those, but we bought Student Movers to give people the perception that that's what they wanted was something for a smaller move. That's been a great acquisition.
We do local household goods, interstate, international, and we do have about 500,000 square feet of storage space between all four locations. We do a tremendous amount of office moving, and commercial business has turned into about 60% of our revenue now. We do hotel renovations and we also have gotten into battery work, where we go to different cell sites from El Paso all the way to South Dakota and we replaced cell site batteries from A to Z. We climb to the top of the mountains and we go to the desert. It's crazy some of the places we've been to change cell site batteries. We do Girl Scout cookies. We're the largest distributor of the United States for Girl Scout cookies. That's a cool little thing.
In fact, they're coming into our warehouse and we'll end up getting about 72 truckloads of cookies by 270,000 cases. It's a lot of cookies and we deliver those out. We do design work. Designers will ship all kinds of furniture in and we'll deliver them out to homes and resort places. We'll set up everything from A to Z with the houses. We do work for a big home builder that we go around and set up all their model homes. We've tried to be diverse. Probably my favorite thing we do is the office moving because it's a great piece of business and you can do a lot of different things quickly.
I love the Girl Scout cookies. That's exciting.
It's fun.
I'm excited to have you here, Stuart, as a 2020 Titan 100. It's no surprise that you have made this list. For those of you that are reading, Stuart was recognized as one of Colorado's Top 100 CEOs & C-Level Executives, the book that features 100 titans of industry. As we kick off this podcast, one of the things I always like to ask every Titan that we interview in this series is, what characteristics do they believe it takes to be considered a Titan of the industry?
There are a lot of different characteristics that it takes to be a titan and one of them is you have to have culture in your company. The number one most important thing in running a business is cashflow but number two is culture. If you don't have a great culture or a culture of bringing your people together in a cohesive form, you're shot in the foot. Let me tell you, it's hard because it's like herding cats and everybody has different opinions on how it works.
[bctt tweet="If you don't have people that want to be part of what you are, you've got nothing." username=""]
The main thing is if you as the leader of the company, don't recognize your people and make them feel like they're part of something special. You don't ever have anything cohesive. We take our culture seriously. We have to live our company through our cultural structure through a book called The Energy Bus. Jon Gordon, the author, I got to hear him speak in a private setting and it changed my life. It changed a bunch of our employees' lives.
A brief little story about that. We let everybody read it and one of our employees came up and said, "Stuart, this is a great book and it's impressed me. I love what you're doing, but you're not living it." I said, "What do you mean?" She said, "We have an energy vampire in the office here and you're not doing anything about it." We had to step back and look at what we're doing. I went and said something to the person's manager and he said, "Stuart, you can't let that person go. They've been here for fifteen years, and they know everything about the company and about what we do." I go, "We've got to make a change, or we're not going to be who we say we are."
After a bunch of consternation and going back and forth, we let her go and the attitude of the whole company changed. We had a similar situation like that happen out in our warehouse. If everybody is rolling together in the same direction, you can take that vote anywhere and we also have the core values that we live by. The culture to me is paramount in making a company successful. It's gotten to be such a buzzword, but it is so true. If you don't have people that want to be part of what you are, you've got nothing. You've got to make people believe that you're doing the right thing, you care about them, and that you're trying to do something bigger.
You're the first titan that we've interviewed that has talked about the culture and cash, the C and the C as I'll put it.
They're both paramount to success. If you don't have cashflow, you can have all the receivables and all the profit on the paper and you've got nothing. You've got to have cashflow so you can pay your employees, your payable run, and pay your bills. That's paramount but after that, it's culture and we've got people that understand that.
Before we segue into your journey, how you got from there to here when you get an additional business add on, and you come into it day one, what do you think about transferring or instilling the culture that you have elsewhere into the new location? What do you do?
It's like when we expand to a new location. The first thing we do is we take our management team to the new place that we've done in the past. We sit down and talk to everybody and find out what their needs and wants are and what's important to them. What's going to make them feel they're part of what we are? We find out what they need to help the branch be more successful. Where do they feel like the previous ownership group let them down? How do we improve on that? We try to do things that make people feel special.
A lot of it is point-to-point contact in person. That's what's the problem now. That's my perception of what's going to change culture with all the pandemic. We're going to see a pendulum swing to where people are working in their house more and more but it's going to go back the other way because the culture is going to suffer. We work on that when we buy a new location or when we grow or we do anything. We try and stay in touch with people and it's important for the owner or the CEO to be visible. You've got to be visible. I feel like you've got to manage by walking around. I don't care who you are. None of us are that important.
[caption id="attachment_5633" align="aligncenter" width="600"]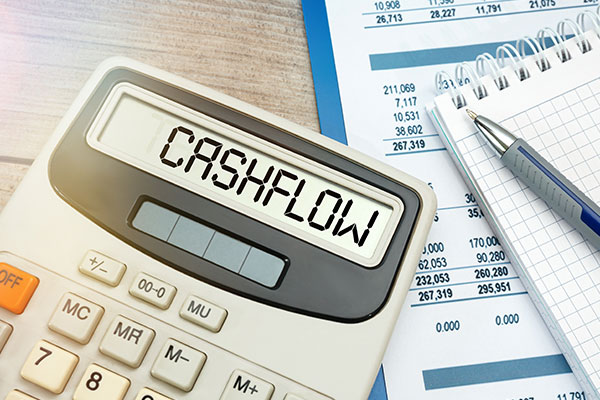 Buehler Companies: The number one most important thing in running a business is cashflow, but number two is culture.[/caption]
Humility is important and you've got to let people know that we appreciate him as a leader. We bought a new building a few years ago now and it's my pride and joy as an owner. It's the Taj Mahal for what we do. It's a 330,000 square foot building and I asked all the ladies in the office, I said, "What's important to you in our new location? What would make you feel special by being there? What do you want in our new office?" They go, "We want nice bathrooms." Let me tell you, our bathrooms are top-notch. People laugh at me because I get all excited about our bathrooms. They're granite countertops. They have an automatic hand wash and the tile is amazing. They have a certain feel. We have the same thing. We have showers for our drivers. We have a gym and we have showers in the gym. There's a vibe and there's a feeling that shows that we care.
Going back a bit, you're talking about the energy vampire, and when that person moved on from your company, what did you notice in the behavior or reaction to the folks that were still part of the team?
The attitude change was amazing. People's attitude got so much better and they felt like, "They're listening to me. They care about who we are and what we're doing." It's easy to listen to someone and blow them off but if you do what you're preaching about and you follow up with it, people believe you. It's easy to lose the trust that you work hard to develop. As a leader, that's something we have to constantly work on.
I love hearing you talk, Stuart, about connecting with your people and listening. It's refreshing as you talk about the humility that's involved with leading your organization. I would love to know, and I'm sure many of our readers would as well, what your story has been and how you've gotten to this path you came to acquire your companies. If you could walk us through your journey, that would resonate with many people.
It's a silly story but before I got into the moving and storage business, I have sold ladies apparel, dresses and sportswear. There's a definite correlation between trucking and ladies' dresses. I don't know what it is yet. I'm still trying to figure it out. I used to work with beautiful women and now I work with truck drivers. I'm the crazy one.
It's a good match.
[bctt tweet="The grass might look greener on the other side, but that's because grass looks shaggy when mowed and watered." username=""]
I was with a company and we grew fast in the apparel business. Some things that came up with this gentleman's lifestyle involved some illegal drugs that helped take the company out of business. I didn't know what I was going to do. I was a young guy with young children and I was like, "I've got to find a job," but I knew that I wanted to be an entrepreneur. I lived in Dallas at the time and my brother-in-law in Denver called me up and he goes, "I want to come up and look at this little moving company. I'm sick of the brain drain of the people and the equipment breaking. I want to do freight forwarding." I go, "Okay." I didn't even know what a truck was, much less a forklift. I came up and looked at it. I was like, "This is cool. I've always liked forklifts."
He had a Mercedes truck and I thought, "I've always wanted a Mercedes." He had a partner and took a dive and bought my brother in law out. It was a different company. It wasn't Buehler at the time. It was another company. We played a lot of cards back then on weekends with the boys. At one of the card games, someone said, "Buehler, Mayflower is for sale." I told my partner at the time, "Steve, that's our ticket to grow." I was the partner that was always bouncing off the walls and trying to do crazy things and he's the guy that was always stable, but he was the quiet one. I was pushing him and he was pulling me all the time.
I went and looked at Buehler and I said, "I want to put this deal together." It took six months and there were a lot of issues with it and a lot of negative equity in the balance sheet. I got a bank to buy off on it because it was off-balance sheet equity. Twenty-eight or so years ago, we made the deal happen. I had a partner at the time, so we bought it together. I bought him out 1.5 years later and I bought our Fort Worth location. We bought a branch in Carrollton Springs that was non branded. We bought The United Agencies in Fort Worth and Denver. We bought new warehouses in Fort Worth and a new one in Denver. We bought Carrollton Springs and Student Movers. Lastly, we bought Albuquerque.
When I bought the company, it was doing about $1.2 million. In 2019, we did about $3 million to $4 million. The moving business, it's a tough business because there are a lot of moving parts. There's a lot of expense. People say it's expensive to move, but you had to pay all the work comp, the insurance on trucks, and the health insurance. It's a thin margin business but the cool thing is, when we bought the company, we had about 40 employees and our high watermark was 300. We're at about 225 so we provide a nice living for about 225 families. When you start thinking about it, it's humbling because you're responsible for those people so I don't take that lightly.
You certainly got it dialed in in terms of how to acquire, build culture, acquire again, and continue with the culture. When we heard you talk about it, many people only dream about acquiring organizations to continue to grow and further their mission and you've done it successfully many times. I would be curious to know, Bob, and I'm sure you're wondering this too, is there any advice that you might be able to offer to a CEO looking to make multiple acquisitions as you did? What's one piece of advice or secret sauce?
I don't know if there's a secret sauce. Some of its being risk-averse. My CFO is always, "No," and when we bought our Albuquerque office, we went down and looked at it. We're leaving and driving to the Fort Worth office and I said, "What do you think?" He goes, "I see a lot of problems there." He went through the list and he goes, "What do you think?" I said, "I see opportunities." We bought Albuquerque and he goes, "Why don't we stay in the place that we're at?" Because it was not a nice location. It was a dump and I said, "Okay." He goes, "Why don't we stay there for a year to make sure we're good?"
Two months later, I bought another warehouse there. I was like, "Now we can have a nice warehouse." My advice is the way I look at every purchase, on any business deal whether it's a car, buying a business or anything, I always say, "What's the worst that can happen?" Once I figure out what that is, and once I come to grips that I can live with whatever that is that I realize, "Go for it." If I'm comfortable with anything above that is good so that's my secret sauce. It's simple. We're not building rockets.
I think about risk management, and what fascinates me is I'm envisioning this workout gym, showers, and fancy bathroom that went into this. I'm now stuck in the bathroom. We all have our things. I'm thinking about the behavior and reaction of the ladies that work for you, the truck drivers that come in. It's clean, welcoming, it's for their comfort and benefit, and I would say atypical. What did that do to your ability to recruit and retain quality people?
[caption id="attachment_5634" align="aligncenter" width="600"]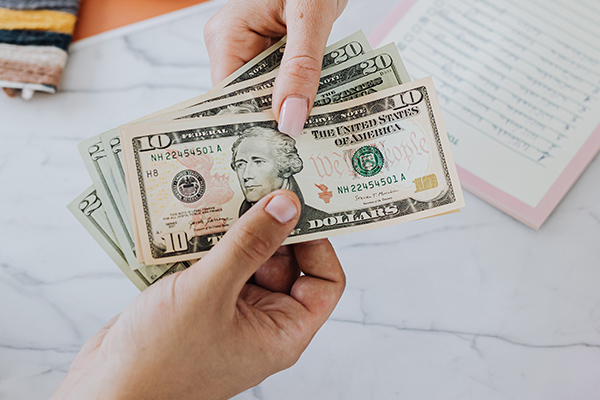 Buehler Companies: In every purchase, always say, "What's the worst that can happen?"[/caption]
Thank goodness, we don't have a lot of turnovers but when we bring people in and we walk around the building, people are like, "This is cool." It's got a great vibe. We have a drivers' room where we set up this drivers' room with a pool table. It's for Interstate drivers so they can get away from everybody. It has a computer in there so they can do paperwork. It has a TV, a couple of nice couches, washer, and dryer so they can go in there and get away and not be bothered. We've got a cool vibe there for everybody to feel like they are part of something special. We have a great lunchroom. We cook breakfast for everybody. I'll tell you probably the favorite thing I do for employees that make them feel special. Jaime, you'll have to answer this question. What are the two favorite things women love?
There's a lot but shopping for one.
Shopping for what?
Everybody is different. Some women like shoes and handbags.
Shoes and handbags. I'm simplifying it and generalizing. I take everybody in the company shoe shopping every year. If you give somebody a cash bonus, typically a lady in the office, and you'd say, "Here's a couple $100," they're going to say, "Thanks," and they're going to pay a bill. If you take them and you go with them and we go to the store, they open up for us early, everybody has to buy a pair of shoes. It's a nice store so they get $200 to $250 to spend on a pair of shoes. It's amazing what that does because when someone wears those shoes, they're like, "Those are mine. They're not something I'd share with my kids." It's simple, but you wouldn't believe the reaction. I started doing it with the women, but the men got all crazy and went, "How come the girls get it, but we don't?" I take everybody.
What a thoughtful gesture. That means so much and it's unique.
We've got to be different. You have to be different because any company can be like every other company. I want to be different.
I would probably be remiss. We're in the middle of COVID in 2020. For you and your business, it seems like there's an out-migration. There are lots of people moving around. Are you seeing much difference in your business as a result of COVID?
Yes, it's been quite a year. Our household goods this year are through the roof. Our interstate hauling is way off the charts. Local moves are awesome this year, whereas in previous years, it's been good but not as vibrant as this year. Our commercial businesses are way off because people aren't in the offices. I have this vision of what's going to happen. I have my own personal opinion on the pandemic so I probably should keep that to myself.
[bctt tweet="Humility is part of being a leader." username=""]
I believe once people start going back to the offices, because they will at some point, companies are going to allow people to start working from home more and more. There's going to be downsizing of offices so we're going to be doing a lot of decommission work. That's going to work for a little bit but then companies are going to find out, "After Joe left and I hired Susan, I don't have anyone to train Susan because Joe is gone." There's no one in the office to train that person. How are you going to get that person trained? The culture is going to disappear and culture for companies is paramount.
I believe that you're going to see a pendulum swing where people work from home more and more and that's what a lot of people think they're more efficient. You're going to see in about a couple of months or a few years, companies are going to say, "This isn't working. We've got to get people back." They're going to start bringing people back so we're a few years away from what's going to happen to everyone in the working world. It's my opinion. It's all conjecture, but we'll see how I am.
You've definitely hit the nail on the head about the culture. I work with many CEOs in our CEO peer groups, and they talk about the challenges now of the remote workforce and the culture. They're losing their people because that IT professional can work anywhere so they're not connected to the culture anymore. For an organization that wants to pay them a couple of thousand dollars more a year, they're making the switch, and that's a real challenge. You hit the nail on the head with that, Stuart, you're quite intuitive.
Whenever someone says they're going to leave if I want them to stay, I try to convince them by telling them, "The grass might look greener but are they going to mow the grass? It might look shaggy where we keep our grass mowed and we water our lawn." That's my little silly thing.
In the old days, the grass was not greener on the other side of the fence. It's better tended. My father was a Navy NCO so he heard that a lot. I mowed yards a lot. The thing that strikes me about all of that is I think about the culture in the office and for the folks around the warehouse and so on. I've got to believe that transmits to the people that are out interfacing with your customers. Would you say that's an accurate comment in your observation?
Yeah. I generate a lot of business from people I know. The stuff that our crew says about our company and about our leadership team does make me feel good. People appreciate what we do and how we care. Let me tell you, if you don't fit in, you don't last long in our company, because certain people don't get it. They don't understand and leave. It's amazing. We have a lot of longevity. I've got people that have been there longer than me. I've been there for 28 or more years. I've got two employees that have been there longer than me and I've got several that have been there as long as I have and many over twenty. It's a comfortable feeling, knowing that we have people who care.
It goes a long way and it shows. Stuart, as I listen to you, the super CEO comes to mind. The title of a Titan is certainly befitting. I will ask you this one question as we wrap up and it's a little bit of a fun one. If you had a superpower, what would it be?
I've never thought of that. I'm not one of these big, superpower guys that watch all, but my favorite is Superman. The superpower I had, if I could have it, where I could take care of our employees and make sure that everybody is financially stable. I don't believe in socialism, but I do believe that if you help them earn and you show them how to fish, they're going to be able to feed themselves. One of the things I want to do when I sell the companies, I'd like to start a foundation for people to attend trade schools. We need trade school people. We need people that know how to drive trucks, put sheetrock up, and hang ceiling tiles. We need electricians, and we need plumbers. They're disappearing.
Everybody thinks that the thing to do is sit at a desk and operate a mouse. We're going to die if we don't get some people in there that know what the heck they're doing in that. If my superpower is anything, it would be to get people to understand the undeniable need for trades because of how important that is. You're going to see a swing in people not going to college even though it's going to be free now. Everything is free. I apologize. We need people that understand and they can make a living doing trade and a good living.
With all this going on, Stuart, the thing that I must ask is for the folks who are going, "I need Stuart to help me or I need to know more about his company," where do they find you on social media?
I'm on LinkedIn and I got on Facebook because our CIO, our information gentleman said, "You've got to get on Facebook because there are movers forums and all this stuff. You've got to see what people are saying." I bumbled my way around Facebook, but it's interesting. We have a Facebook page for Buehler and Facebook page for Student Movers. We have Twitter too.
It sounds like a plan. Jaime, is there anything else? I'm sure there are lots we should have brought up, but is there anything further that you should bring up on your mind?
If you're interested in learning more about Stuart's story, please visit our website, www.Titan100.biz. You can read about Stuart and all of the 2020 Titan 100 and their individual landing pages. Stuart's story is obviously an inspiration to many. Thank you so much for being here with us, Stuart, and for sharing all of your experiences. It's been incredibly humbling to listen to you and your mindset.
Thank you. It's humbling that you guys think I deserved the honor to be a Titan. It's a humbling experience and humility is important to be a leader too. We have too many people with big egos walking around.
Stuart, it's been a joy. I think about doing the right thing for your folks that help contribute to the success of your company and that's a universal message that's ignored often. I'm impressed. Thank you so much for your time. Jaime, we'll call it good.
Thanks, everyone.
Thank you.
Important Links:
About Stuart Smith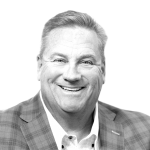 Stuart earned a bachelor's degree in Business Administration and Marketing from the University of North Texas and began his sales career in the apparel industry. Despite his success in apparel, Stuart was driven to be an entrepreneur and found an opportunity in the moving business. Stuart purchased Buehler Moving and Storage in 1994 and began his mission of growing the company into one of the strongest agents in the Mayflower Transit system.
In 1996, Stuart acquired Buehler Transfer and Storage of Texas, located in Fort Worth. In 2002, Stuart saw the opportunity to diversify Buehler, and created Alliance Relocation, an agent for United Van Lines.
Stuart has continued to drive the expansion of Buehler, purchasing Manitou Express Moving and Storage in Colorado Springs, adding Student Movers in Denver, and adding Buehler Moving and Storage of New Mexico in Albuquerque.
Stuart's determination to grow the company has been fueled by his willingness to reinvest in the company, as Buehler has purchased six new warehouses in the past ten years. Buehler is currently the fourth largest hauler in the Mayflower Transit system and has been recognized with numerous awards, including being selected as one Colorado's Companies to Watch by CoBiz Magazine and 2018 Best Moving Company.
Outside of Buehler, Stuart serves on the advisory board for both Vectra Bank and the Colorado Motor Carriers Association. Stuart, who earned the rank of Eagle Scout in his younger years, is an active supporter of the Boy Scouts of America and still enjoys spending his downtime in the outdoors.
Love the show? Subscribe, rate, review, and share!
Join the Business Leaders Podcast Community today: