Why did we become school leaders and teachers? To educate, uplift, and inspire all students. So when things go wrong, why do schools seem to use exclusion as a first reaction, especially for kids that need to be in class the most?
This week's guest, Dr. Andy Jacks,
shares ideas and practical suggestions that will actually make a difference to achieve the behavior balance we all want in schools. 
In this episode, we also discuss:
The power of consistent and lasting relationships

Networking with other leaders

And his book,

Discipline Win
About Dr. Andy Jacks:
Dr. Andy Jacks is a highly regarded school leader known for the energy and passion he brings to ensure his students feel valued in school every day. He describes his favorite and most common compliment from visitors to his school as, "It just feels different here." Andy has been recognized with state and national awards such as School Bell Award, Professional Development Award, Virginia Principal of the Year, and Nationally Distinguished Principal.
As a school principal, Andy skyrocketed student achievement and led a cultural transformation that gained local and national recognition for his students and staff, including state and local awards for performance, business partnerships, support for military-connected families, and even a school tour by the United States Secretary of Education. 
As a senior fellow for the National Association of Elementary School Principals' Centers for Advancing Leadership, Andy works to engage and support school leaders across the country through focused centers on diversity, innovation, the middle level, and women in leadership. He has served on national task forces and has shared at congressional briefings. Andy also serves on the board of directors of the Autism Society of Northern Virginia, where he organizes inclusive and sensory-friendly family events in the region.
Andy is a sought-after speaker and trainer, providing professional learning for school districts and associations. He has been featured in publications such as the Washington Post, Principal Magazine, and Education Week. He is the author of Discipline Win: Strategies to improve behavior, increase ownership, and give every student a chance. He resides in Northern Virginia with his wife and three children. Find him online at
andyjacks.com
and on social media @_AndyJacks.
Dr. Andy Jacks:
https://www.amazon.com/Discipline-Win-Strategies-Behavior-Ownership/dp/1951600975?hvadid=553268237417&hvpos=&hvnetw=g&hvrand=6274802992528828135&hvpone=&hvptwo=&hvqmt=&hvdev=c&hvdvcmdl=&hvlocint=&hvlocphy=1026836&hvtargid=pla-1442394894601&psc=1&linkCode=ll1&tag=aspirewebsite-20&linkId=4293c99a258d35aeb7de4446b7193515&language=en_US&ref_=as_li_ss_tl
Are you a superfan of the Aspire podcast? Well, now you can show off your support with the new Aspire swag, featuring tee shirts, hoodies and a variety of drinkware. You can find all your Aspire Swag at
www.teachbetter.com/swag
[caption id="attachment_3508" align="alignnone" width="1024"]
Aspire: The Leadership Development Podcast Swag, Joshua Stamper, Teach Better[/caption]
Use Discount Code: ASPIRE for 25% OFF
Tee-Shirts, Hoodies, and Drinkware:
ASPIRE: The Leadership Development Podcast
This post contains affiliate links.
When you make a purchase through these links, The Aspire Podcast gets a small percentage of the sale at no extra cost to you.
Need a Presenter for a conference or school PD?
Contact Joshua Stamper
for presentations on Restorative Practices, Leadership Development, and Innovative campus systems.
Watch my session on Trauma Informed, restorative and social emotional practices at
www.teachsummit.com/stamper
Follow the Host, Joshua Stamper:
Contact:
https://joshstamper.com/contact/
Twitter:
www.twitter.com/Joshua__Stamper
Instagram:
www.instagram.com/joshua__stamper
Linkedin:
www.linkedin.com/in/joshua-stamper
Facebook:
https://www.facebook.com/AspirePodcast
Subscribe:
https://podcasts.apple.com/us/podcast/aspire-the-leadership-development-podcast/id1384210762?mt=2
Aspire to Lead made it to the Best New Education Books
I'm happy to announce that my book, "Aspire to Lead", made it to
BookAuthority's Best New Education Books
.
[caption id="attachment_3718" align="alignnone" width="1024"]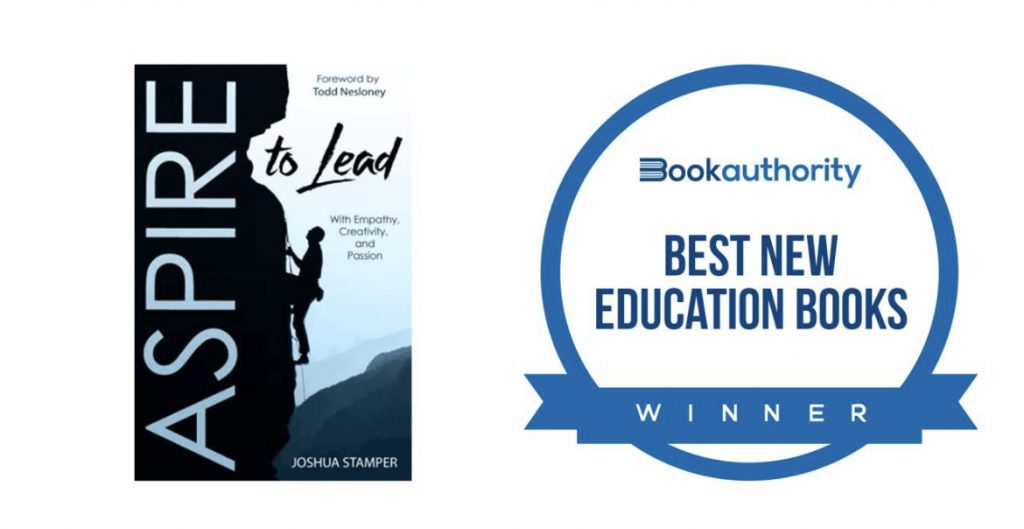 Aspire to Lead, Joshua Stamper, Book Authority Award, Best new book[/caption]
BookAuthority collects and ranks the best books in the world, and it is a great honor to get this kind of recognition. Thank you for all your support!
The book is available for purchase
on Amazon
.
https://www.amazon.com/gp/product/1953852386/ref=as_li_tl?ie=UTF8&camp=1789&creative=9325&creativeASIN=1953852386&linkCode=as2&tag=aspirewebsite-20&linkId=0d9c336e3db6ab16cbb08421ef3e4175
Review the Podcast
I want to give a huge shout out to those who have taken the time to provide a review on Apple, Spotify or any other podcast platform. It truly means the world to me that you would take the 30- 90 seconds to share how the podcast has positively impacted you or why other educators should check out the show.
[caption id="attachment_3022" align="alignnone" width="1024"]

Teach Better Podcast Network, Aspire: The Leadership Development Podcast[/caption]